BEGINNERS ACTING CLASSES IN LOS ANGELES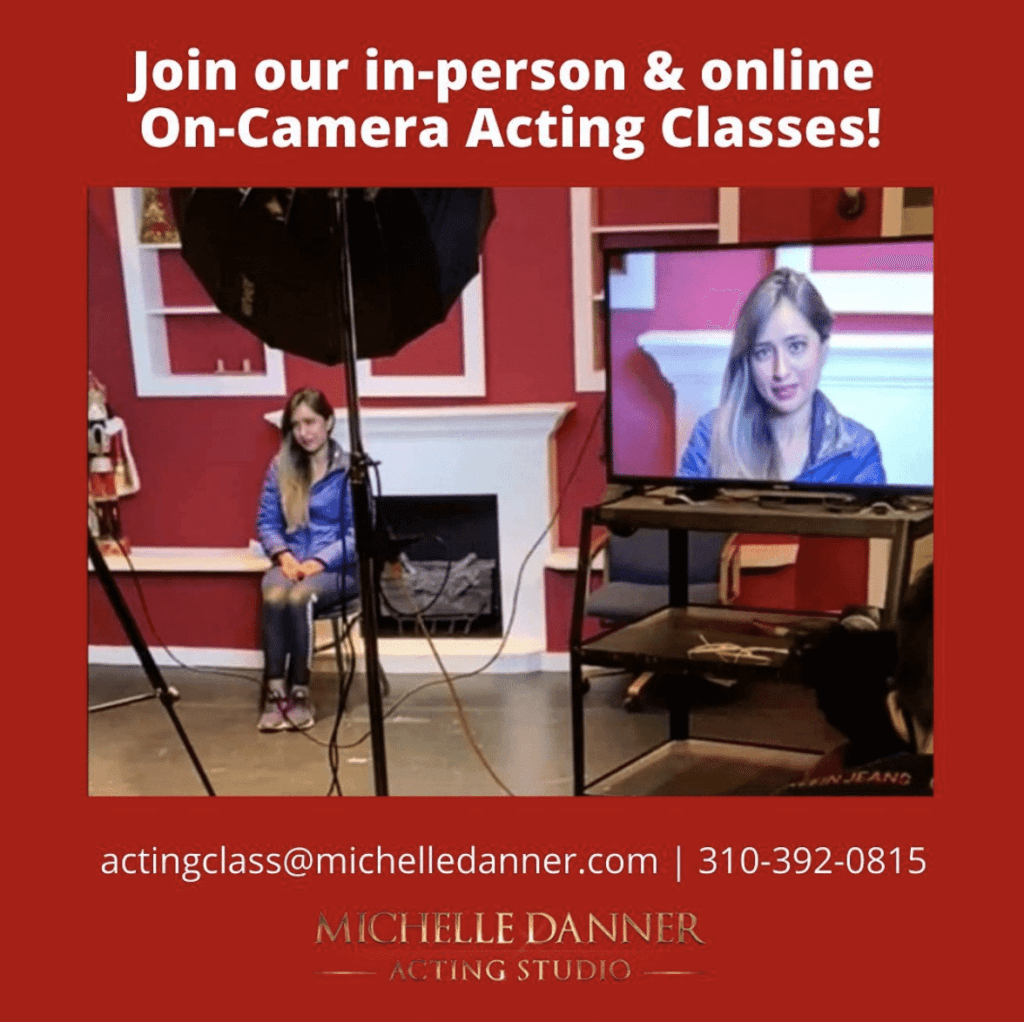 Our acting school in LA provides top acting classes in Los Angeles
There are so many acting classes in Los Angeles, but there is no school that teaches you everything you need to know to succeed in the Hollywood industry.

Do you want a class that teaches auditioning, on-camera or cold reading or techniques such as the Method, Meisner, Stanislavski or Stella Adler?

Acting Technique Auditioning for Film and TV On Camera
Learn the best acting techniques for film acting & auditioning. You will be emailed each week material from a movie or TV show from comedy to drama. Gain confidence in front of the camera and build all the skills you need to launch your acting career. Learn to make powerful acting choices, listening and answering in the moment as you fully commit to your acting partner and your objective in the scene. Techniques are based on Stella Adler, Meisner, Uta Hagen, Stanislavski. TUESDAY 6:00 pm – 9:00 pm
WEDNESDAY 6:00 pm – 9:00 pm
Meisner Acting Technique – LEVEL 1

You will learn the foundation of Sanford Meisner: exercises in repetition independent activities, emotional preparation & scene work. The focus of the Meisner approach is for the actor to "get out of their head", such that the actor is behaving instinctively to the surrounding environment.
Monday 6pm-9pm starting July 19th or August 16th
Create your own content
Are you interested in the process of making short films, feature films and content for socials, and websites?
Join Director Josef LeMieux for an in depth look into the art of "Content Creation".In this class you will learn how to make content for:Short Films, Feature Films, Social Media & more! This class will focus onThe craft of creating content how to write, produce and direct your own content. *Equipment needed to create*How to work with actors*How to be directable &*How to make content that is relevant, engaging and inspirational. We will explore current trends in content. We will explore the different mediums available to content creators most importantly, We Will CREATE!!
Wednesday 6pm-9pm

Improvisation Workout
Develop stage presences well as self-confidence and good communication skills.*Get out of your own head through fun improvisational games and exercises.*Discover characters you never knew you could play by being thrown intosituations where you don't have time to think.
THURSDAY 6:00 pm – 9:00 pm with DEREK

Learn Self Taping Audition Technique level 1
Every actor needs to know how to self-tape. The ability to self-tape an audition has allowed actors from anywhere in the country and the world to be considered for projects that are casting in Hollywood and elsewhere Each week you will be given a selection of scenes and genres to shoot and share with your online class.
Learn how to deliver a memorable and engaging self-tape and stand out from hundreds of submissions.
Learn how to catch the casting director's attention within 30 second.
Learn everything you need to know regarding the technical side of self-taping including the best equipment to use.
Learn what your best angle is in front of the camera.
WED 3:00 pm – 6:00 pm with Teferi

***ACTING DEMO REELS| CREATE YOUR REEL
A great demo reel, like a great headshot, can help you get an audition. Schedule your film shoot!If you would like to market yourself to casting directors, agents and managers and don't currently have a demo reel, we do a professional reel that is color corrected, sound designed and will include comedic and dramatic film footage that showcases your talent. If you currently have a demo reel but would like to update it with new cutting-edge material we can also do that. Below is the information. Let me know if you have any questions or if you are interested. or call us at 310-392-0815.Acting Demo ReelYou will receive 2 fully produced, edited, color graded 30-second scenes. We will help you choose and prepare the right material that will showcase your acting strengths and uniqueness.Demo Reels include:*Consultation with director and writer. Location/Lighting/Color grading/Music: If needed/Editing/Direction & rehearsal/Production design.Allow yourself time to rehearse and be comfortable with the scene/monologue you are planning to film.Private coaching is available for an additional cost. Our editor can add your new footage to your existing reel for an additional charge.
BREAKING INTO HOLLYWOOD – THE BUSINESS OF ACTING – ONLINE INTERACTIVE CLASSES
Start a Career as an Actor

Learn how you can submit for a film and TV part from anywhere in the country and the world to be considered for projects that are casting in Hollywood and elsewhere. What training do I need to become an actor? How do I find roles to audition for? How do I book an audition? How do I book an acting job?
This intensive gives you the road map to learning how you can work in the industry as an actor and gives you the tools you need to break into Hollywood. By the end of this class, you will understand how to market yourself and you will understand the agent process, and how to begin to audition.

This class is for actors who need an agent; who are trying to get to the next level; who are unsatisfied with the number of auditions they are getting; and who have an agent but need to book work.

An Interactive Workshop That Answers Your Questions:
How to get a headshot and showreel that stands out, how to get into SAG-AFTRA, how to create a resume that gets you called in, how to get work without an Agent, how casting works, how to develop an individualized strategy for your career!!

GET THE ANSWERS TO THE FOLLOWING QUESTIONS:
What training do I need to become an actor?
How do I find roles to audition for?
How do I book an audition?
How do I book an acting job?
How do I find a talent agent?
How do I create my own work as an actor?

July 11th, 2021 – Sunday from 10:00 am – 12:00 pm for $100Once you have paid please email us which class you have chosen so we can add you to the class.


Classes are held in virtual classrooms hosted by zoom.

Click here to reserve your spot and pay


The Michelle Danner Acting Studio's philosophy is that artists can draw upon all different acting techniques and form an individual toolbox, their own Golden Box.

We will help you to develop your own "Golden Box" of techniques and tools that you can use when approaching a role or a scene, whether it be for film, television, or theater. The Acting School's acting techniques are based on Meisner, Strasberg, Adler, Hagen, Chekhov, & the Stanislavsky Technique.

Michelle Danner is an international film director & acting coach. Her student list include James Franco, Seth MacFarlane, Salma Hayek, Henry Cavill, Zooey Deschanel, Gerard Butler, Chris Rock, Chris Martin, Penelope Cruz, Michael Pena, Michelle Rodriguez, Kate Del Castillo and many others.

Check out the best acting classes in Los Angeles and the best acting teachersOur acting school offers the following acting techniques in our acting classes: Stella Adler Technique| Meisner Acting Technique| The Stanislavski Method| Uta Hagen Technique.

Below is a list of some of our acting classes: Acting Classes for Beginners
Acting Workshops: Breaking into Hollywood
Acting Workshops: Golden BoxScene Study Class
Voice & Speech ClassScript analysis
Musical theatre classes Los Angeles
Accent Reduction Classes
Private coaching for film and tv auditions

Summer Camps Los Angeles| Acting classes for kids

Summer Camps Los Angeles | Acting Classes for teens

Auditioning for film and TV | Teen and kids

Online classes for teens

Learn Acting at one of the Best Acting Schools in Los Angeles

Phone: 310.392.0815 Email: actingclass@michelledanner.com