MEISNER TECHNIQUE
12 WEEK INTENSIVE
 –

LEARN 1 OF THE ACTING TECHNIQUES 
THAT CAN CREATE POWERFUL ACTORS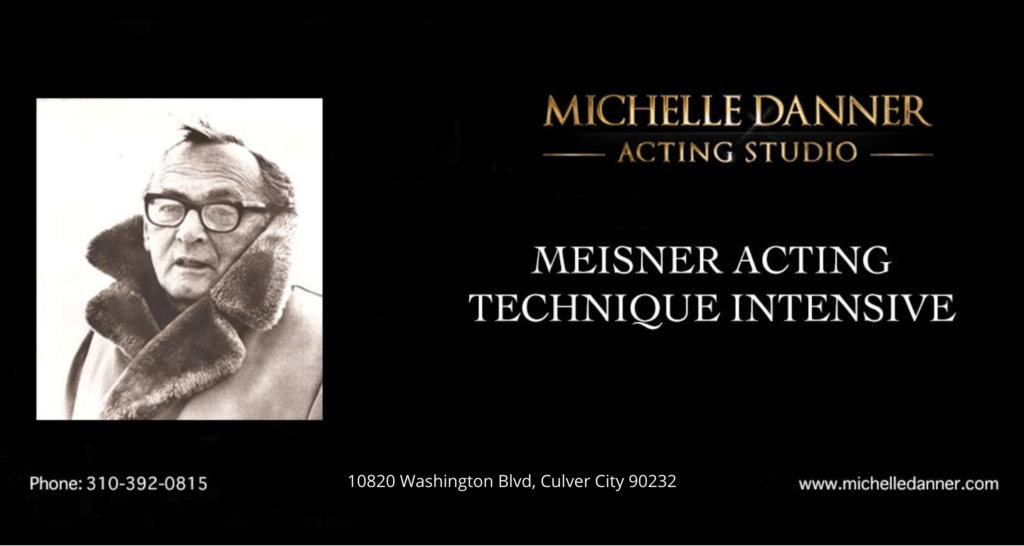 The training begins with a three-month period of intensive improvisational work, including the "Repetition Exercise" in which actors learn to take the attention off themselves and put it on their partners' real behavior, allowing it to affect them and cause a truthful reaction.
Students then apply this strong beginning in their ability to "live truthfully" to modern scene work. The second half of the class is devoted to a heightening of this sense of truth and the actors' emotional depth through more improvisational work and scenes

.
12 weeks 3 hour intensive | Friday 12:30-3:30pm
3 payments of $250 dollars
Best Acting Classes Los Angeles | Meisner Technique –
---
Michelle Danner is an international film director & acting coach. Her student list include James Franco, Seth MacFarlane, Salma Hayek, Henry Cavill, Zooey Deschanel, Gerard Butler, Chris Rock, Chris Martin, Penelope Cruz, Michael Pena, Michelle Rodriguez, Kate Del Castillo and many others.
Check out the best acting classes in Los Angeles and the best acting teachers in Los Angeles
This acting school offers the following acting classes
acting techniques:
– Stella Adler Technique
– Meisner Acting Technique
– The Stanislavski Method
-Uta Hagen
– Demo Reel
– On camera acting classes
– Scene Study Class– Beginning/Intermediate/ Advanced
– Voice & Speech Class
– Script analysis
– Musical theatre classes Los Angeles
–  Accent Reduction Classes
– Private Acting Classes
 Acting Workshops:
– Breaking into Hollywood
Private coaching | Audition Coaching | Online Coaching | Private Acting Classes
Acting Auditions for teen and kids
KIDS ACTING CLASSES & acting summer camps
Check out our acting classes Los Angeles and acting school Los Angeles
Learn Acting at one of the Best Acting Schools in Los Angeles
2437 Main Street Santa Monica, CA 90405
Phone: 310.392.0815