Acting Workshops in Los Angeles: The Golden Box with Michelle Danner
Acting Coach: Michelle Danner
Duration: 2 Days
Category: Acting Workshop
Actors: Beginner, intermediate, and advanced
Highlights: One of our most popular courses for actors, writers, directors and industry members
REQUEST INFORMATION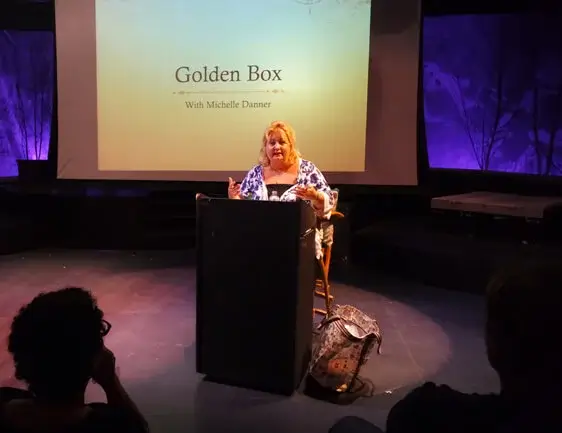 Learn the Best Acting Techniques for Auditioning and Film Acting
The Michelle Danner Acting Studio's philosophy is that artists can form their own personalized toolbox by drawing upon all the different acting techniques out there. Our one-of-a-kind Golden Box Acting Workshop in Los Angeles will help you to develop your own Golden Box of tools and techniques. These can be used when approaching a role or a scene in film, television, or theater. Our acting school techniques are based on Meisner, Strasberg, Adler, Hagen, Chekhov, and Stanislavsky techniques. Taught by Michelle Danner, the Golden Box is a two-day in-depth interactive lecture that breaks down the technical roadmap employed at the Michelle Danner Acting Studio.
Goals of this Acting Workshop
The Golden Box teaches you how to get out of your head, follow your impulses, and begin to live completely in the moment. Find your own unique emotional triggers and learn to access your full range of feelings at a moment's notice. Learn how to create vivid, fleshed out, and interesting characters through an intense and emotional workshop supported with lectures and technique exercises. Michelle's techniques are effective for actors of various skill and experience levels. Actors worldwide have found professional success after studying with Michelle. Her methods take the emphasis off being dogmatic and help actors discover their own creativity.
This acting workshop focuses on answering the following questions:
How to deliver a raw unforgettable performance
Why are some choices more powerful than others
What specific tools can be applied to stage, film, and television work
How to develop a personal story from scratch and come up with material for a one-person show, screenplay, short, or novel
Golden Box Acting Workshop in Los Angeles
This workshop will be supported by film clips and will include discussions and analyses of performances by top stars like Meryl Streep, Anthony Hopkins, Marlon Brando, James Dean, and many others.
Exercises consist of learning how to build provocative and complex backstories. You will learn that by opening up emotionally and finding triggers and psychological gestures in your work. This acting workshop has served as more than just an acting seminar, as past participants have discovered profound truths about themselves as artists.
Reviews for Michelle Danner's Acting Workshops
"Best experience of my life"
"Firstly, everyone should go through this phenomenal journey. I recently took the class "Golden Box" with Michelle Danner. It was the best experience of my life! I recommend every person to take this acting class! Furthermore the Golden Box is not just an acting class you need in order to be a great actor. It also helps you be a great human being. She teaches you humility. Michelle taught us how to use our triggers to benefit us when acting. We cried, we laughed, we were angry, and happy. It will inspire you and motivate you to be the best actor you can be. In conclusion: I am so happy I took this class and I will definitely take it again." – Marylu
"Michelle will give you a toolbox every actor needs"
"Fantastic and great acting technique class! For any actor wanting to go deeply into character analysis and learning to use their emotion at will! Michelle Danner will give you: a toolbox every actor needs with dozens of exercises, hundreds of useful tips, great friendly and conversational atmosphere and thousands of smart words and thoughts. This acting technique class was well worth my time. She is a respected top acting coach and you can see why after taking this 2 day intensive. Michelle showed the actors in the class so many advanced and special ways of working on developing characters. In addition, she also taught us how to go deeper emotionally and how to find literally ANY emotion. This emotion can be used in developing in-depth, multi-layered characters. Both days passed so fast, that it was sad when it ended." – Alex D.
"Best acting workshop and school in Los Angeles"
"In my opinion, the best acting workshop and school in Los Angeles has to be the Golden Box taught by Michelle Danner. She will teach you how to apply in a practical way her powerful acting technique to the craft of acting. Michelle's technique has allowed me to feel confident in the audition room. For the first time I feel like I know what I'm doing. And the proof is in the pudding because I'm getting great feedback and callbacks for juicy guest star roles!" – Lizbeth O.
"Most valuable information: actor´s workout"
"I thoroughly enjoyed the Golden Box. Within two days, I learned so many essential techniques that are vital to my growth as an actor. Michelle's knowledge on acting made me realize that my goals are attainable. Furthermore, she taught me that there are tangible steps I can take to broaden my skill set. Finally, I think one of the most valuable things I learned from this acting class and something every actor should know is that if you do an 'actor's workout' every day, you will see results." – Malika S.
The Michelle Danner Acting Studio is one of the best performing arts schools in the U.S. To learn about all the acting classes in Los Angeles we offer, call 310.392.0815 or email us at actingschool@michelledanner.com.
Los Angeles Acting Workshops | Michelle Danner Acting Studio
Our acting school offers a variety of workshops in LA. These are designed to help you hone specific skills and explore new techniques as an actor. Workshops range from day-long seminars to eight-week courses and are offered in the following areas: breaking into Hollywood, the business of acting, and the Golden box acting technique. Be sure to sign up below for notifications, updates, and more information on our acting workshops.