The Michelle Danner Acting Studio is based in Santa Monica, California. The Michelle Danner Acting Studio recognizes that every actor is unique. In our acting classes LA we help students to develop their own "Golden Box" of techniques and tools that they can use at any time. The Acting School's acting techniques are based on the Meisner Technique, Lee Strasberg's Method, Stella Adler, Stanislavski's System, and the Chekhov technique.
We will teach you to develop your very own acting toolbox called the "Golden Box." You will accumulate a comprehensive set of "acting tools" when approaching a role or a scene, whether it be for film, television, or theater.
Our performing art school provide's a safe and pro-active environment that fosters creativity in our students. Our students are encouraged to take risks and work on challenging and daring material that will stretch them as actors and push them beyond their limits.
Our acting classes LA are kept small so that each student has opportunity to work in every class. We ensure that each student receives the care and attention necessary to grow as an actor.
We have many students from Los Angeles, which is approximately 25 minutes to our studio by car.
…………………………….
Check out the best acting classes in Los Angeles and the best acting teachers in Los Angeles. 
This acting school offers the following acting classes: acting techniques:
 Stella Adler Technique| Meisner Acting Technique| The Stanislavski Method|Uta Hagen.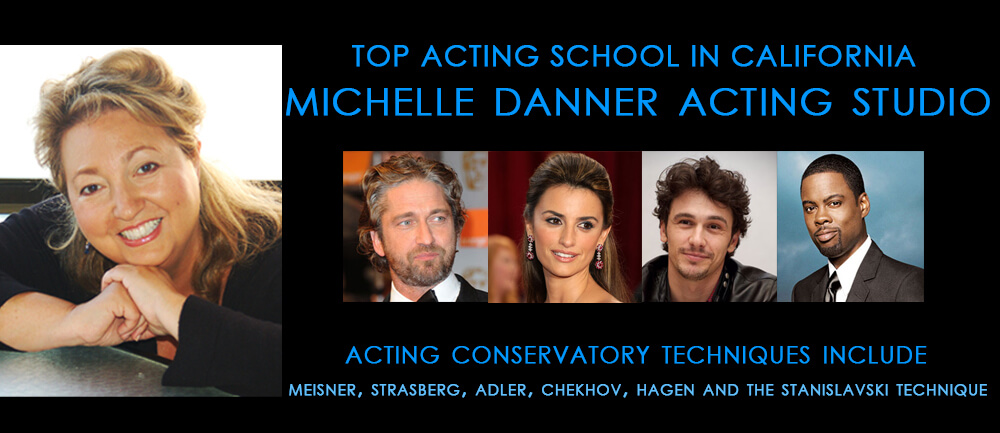 Below is a list of some of our acting classes LA:
Demo Reel|On camera acting classes| Scene Study Class– Beginning/Intermediate/ Advanced
Acting Classes for Beginners|Voice & Speech Class| Improv Classes Los Angeles| Script analysis
– Musical theatre classes Los Angeles| Accent Reduction Classes|Private coach
 Acting Workshops: Breaking into Hollywood
Summer Camps Los Angeles|acting classes for kids|Acting Classes for teens
Acting auditions for teen and kids|Online classes for teens
Check out our acting classes Los Angeles and acting school Los Angeles. 
Learn Acting at one of the Best Acting Schools in Los Angeles
Phone: 310.392.0815 Email: actingclass@michelledanner.com