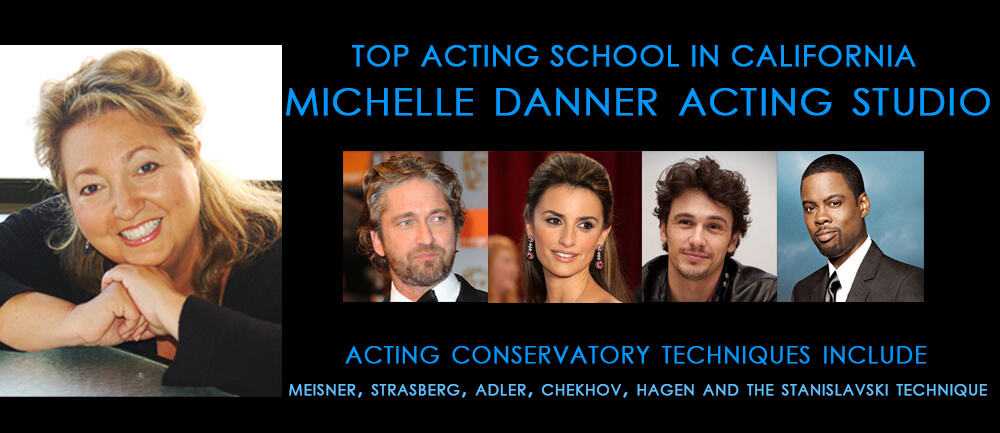 Michelle Danner Acting School recognizes that every actor is unique. We help students to develop their own "Golden Box" of techniques and tools that they can use at any time. The Acting School's acting techniques are based on the Meisner Technique, Lee Strasberg's Method, Stella Adler, Stanislavski's System, and the Chekhov technique.
We will teach you to develop your very own acting toolbox called the "Golden Box." You will accumulate a comprehensive set of "acting tools" when approaching a role or a scene, whether it be for film, television, or theater.
Our performing art schoolprovide's a safe and pro-active environment that fosters creativity in our students. Our students are encouraged to take risks and work on challenging and daring material that will stretch them as actors and push them beyond their limits.
Our acting classes are kept small so that each student has the opportunity to work in every class. We ensure that each student receives the care and attention necessary to grow as an actor.
Where have our faculty trained?
You will be taught by one of the most-well respected and in demand acting coaches in Hollywood. Michelle Danner has worked for years privately, and on set with some of Hollywood's biggest stars. Our faculty of acting teachers have graduated from some of the most prestigious programs in the world, including Yale and Juliard, and they are currently working as actors, and directors.
What opportunities are there for actors?
The Michelle Danner Los Angeles Acting School not only provides world class training, but our actors have the opportunity to build their resumes and gain IMDB credits. Our students have the opportunity to audition for parts in Michelle Danner's latest movies, audition for the various theater productions, and participate in our yearly film festival. These opportunities give students the chance to build their resumes and IMDB credits, through practical training. Below are links to the websites you should check out for more information:
All In Films is an independent film production company. At the helm are Michelle Danner & Alexandra Guarnieri. The mission of All In Films is to produce high-quality, independent movies geared to entertain & spark social commentary. Check out the website at www.allinfilms.com .
**Through the improvisational classes students have the opportunity to be part of the latest Web Series "Uncensored Hollywood" & gain IMDB credit as well as add professional reel footage.
What experiences do our acting coaches have?
Michelle Danner, who is the leading acting coach and director of the studio, is a renowned actor, director, and an acclaimed acting coach. She has worked with many A-List Actors privately as well as on set. These include James Franco, Penelope Cruz, Salma Hayek, Zooey Deschanel, Chris Rock, Gerard Butler, Seth MacFarlane, Kate Del Castillo, Michael Pena, Catherine Bell, Gabrielle Union, Michelle Rodriguez, and many others. Michelle trained with Stella Adler and Uta Hagen. She teaches internationally in Europe, Toronto, Vancouver, Dubai, and New York. She was voted favorite acting coach by Backstage readers. She's also recently directed Hello Herman, starring Norman Reedus from the Walking Dead. The film opened nationwide with simultaneous availability on VOD in 100 million homes and premiered at the Hollywood Film Festival and won the award for Socially Relevant Film at the Monaco Charity Film Festival . We are considered one of the top acting schools in the country because of our Acting Techniques The most in-demand and lasting acting techniques are taught, and this includes the Meisner, Strasberg, Adler, Hagen, Chekhov, and Stanislavski techniques. Students will have multiple options to select from. We recommend methods that you are personally passionate about.

Brought to you by one of the best drama schools in Los Angeles!