MICHELLE DANNER
L'UNE DES PLUS GRANDS COACHS D'ACTEUR DE CÉLÉBRITÉS HOLLYWOODIENNES SERA PRÉSENTE À

MONTRÉAL

ET AU

QUÉBEC

POUR LA PREMIÈRE FOIS.
Michelle Danner arrive à Montréal et au Québec pour enseigner ses deux cours intensifs.
**La golden box intensive**
**Percer à Hollywood**
La méthode de Michelle Danner se compose des techniques suivantes : Meisner, Adler, Strasberg, Hagen, Chekhov et Stanislavsky, mais elle ne se limite pas à celles-ci.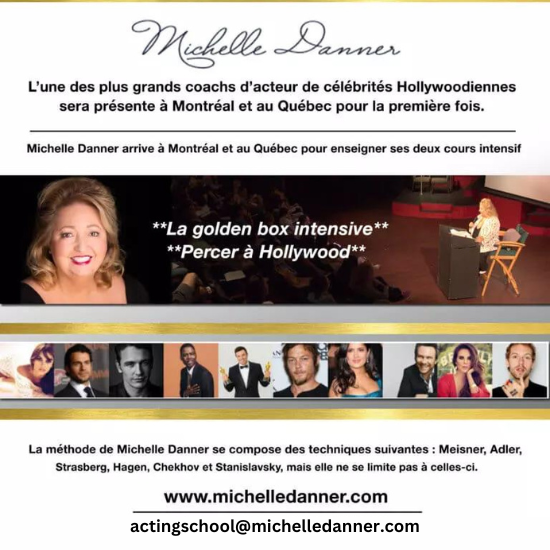 COURS D'ACTEURS INTENSIFS À MONTRÉAL ET AU QUÉBEC
Michelle Danner est une actrice et réalisatrice renommée ainsi qu'une coach pour acteurs  amplement récompensée. Son studio regroupe les methodes suivantes: Meisner, Strasberg, Adler, Chekhov & la Technique Stanislavki.
Directrice de l'enseignement au studio d'acteurs d'Edgemar Center for the Arts ; Co-fondatrice du centre, elle est aussi une réalisatrice, actrice et productrice prolifique ainsi qu'une coach de théâtre/jeu pour des acteurs très réputés. Michelle Danner travaille avec de nombreuses stars d'Hollywood parmi lesquelles: Penelope Cruz, Salma Hayek, Zooey Deschanel, James Franco, Gerard Butler, Marcia Cross, Chris Rock, Common, Seth MacFarlane, Henry Cavill, Catherine Bell, Christian Slater, Michael Pena, Isla Fisher, Brian McKnight, Rick Fox, Gabrielle Union, et bien d'autres encore.
 Elle enseigne à The Michelle Danner Acting School et à l'international; elle a récemment été à Paris, Toronto, Vancouver, Dubai, Sydney, New York, et en Afrique du Sud.
Le dernier film réalisé par Michelle Danner est « Hello Herman », scénario de John Buffolo Mailler avec Norman Reedus de « Walking Dead » et « Boondock Saints » et Marta Higareda. Le film a fait sa première nationale au Festival du Film de Hollywood, et sa première internationale au Festival du Film de Charité de Monaco récompensé par l'Award de la relevance sociale.
Le film d'Hello Herman a ouvert en salle le 7 Juin disponible simultanément en VOD dans plus de 100 millions de foyers. La bande annonce de Hello Herman peut être vue à www.allinfilms.com
XXXXX
WORKSHOP INTENSIF  'AUDITION TECHNIQUE'
Tous les éléments clés pour lancer sa carrière d'acteur et apprendre à se promouvoir soi-même. Le nombre d'étudiants est toujours limité pour permettre une majeure personnalisation du cours et laisser du temps aux questions. Cela inclue un feedback sur votre CV d'acteur.
*Comment trouver un agent, manager, avocat et publiciste
*Comment le processus de casting fonctionne
*Comment développer une stratégie personnalisée pour votre carrière
*Comment trouver du travail sans agent
*Avoir la bonne photo de présentation
*Audition Do's et Dont's
*Les Pour et les Contre des Talent Showcases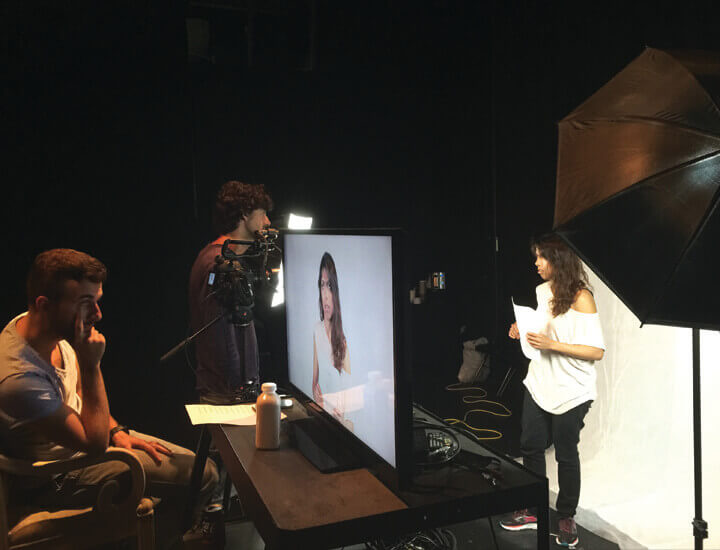 Inscrivez-vous pour une session d'information gratuite – 310 392 0815 – actingschool@michelledanner.com
VENEZ ÉTUDIER ET TRAVAILLER À HOLLYWOOD AVEC LE VISA ÉTUDIANT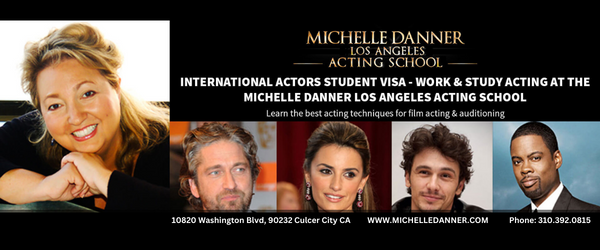 Si vous êtes intéressé en un court séjour, nous offrons aussi des programmes de 6 semaines ou 3 mois, lesquels ne nécessitent pas le visa M1 puisqu'il s'agit d'un séjour bref.
Pour plus d'information, Skype à :
 live:.cid.9ef1fb7fafb0ffec
 ou envoyez un email à : actingschool@michelledanner.com ou téléphonez à ce numéro : 310-392-0815 ou
cliquez ici