CAREER BUILDING CHANCES FOR OUR ACTORS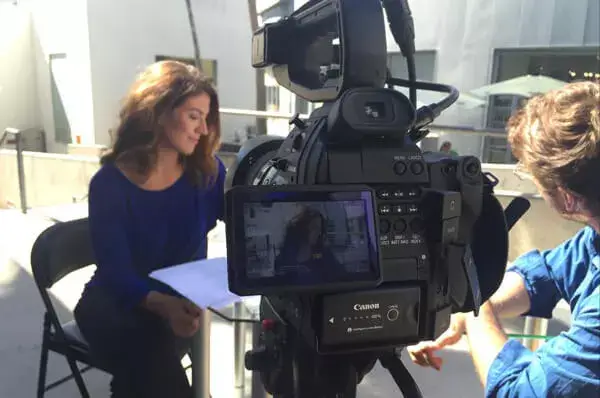 International Students
Working Opportunities For Actors That Are Part Of Our Well-Rounded Actors Training Intensive:
The Michelle Danner Acting Studio not only provides well-rounded acting training through the acting classes that we offer, but our actors have the opportunity to build their resumes and gain IMDB credits while they study. Students in our improvisational classes have the opportunity to be part of our latest Web Series "Uncensored Hollywood"& gain IMDB credit as well as add professional reel footage.  Actors also have the opportunity to audition for roles in theater and musical productions produced at the Edgemar Center for the arts, as well as Michelle Danner's film project's produced through her film production company, All In Films.  Our yearly film festival provides students with the perfect setting to network with directors and film makers in Hollywood, to build relationships that can lead to years of work within the industry.
In addition, casting notices received from casting directors and directors outside of the acting studio are referred to our actors in our Los Angeles acting school who fit the requested roles.  Below are links to the websites you should check out for more information: All In Films is an independent film production company. At the helm are Michelle Danner, Alexandra Guarnieri. The mission of All In Films is to produce high-quality, independent movies geared to entertain & spark social commentary. www.allinfilms.com.
Uncensored Hollywood – Web Series
Uncensored Hollywood the series follows the escapades of a big-shot Hollywood Acting coach, and the students who will do whatever it takes to become a star. Directed by Derek Reid, our improv coach, the series draws on all the diverse skills our students have learned in class. New episodes are released each Friday. Interested in learning more about the web series, the acting school, or our other projects? Email us at info@michelledanner.com
Theater Shows – A Night at the Black Cat Cabaret
Students have the opportunity to audition for shows produced through the Edgemar Center for the Arts. Take a look below to see some of our students performing in our latest production, A Night at the Black Cat Cabaret.
Actors Michelle Danner has worked with:
Henry Cavill, Gerard Butler, Abigail Breslin, Zooey Deschanel, Penelope Cruz, Andy Garcia, Salma Hayek, James Franco, Seth Macfarlane, Michelle Rodriguez, Isla Fisher, Luke Wilson, Emily Van Camp, Donald Sutherland, Kyle MacLachlan, Mireille Enos, Taryn Manning, Ryan Phillippe, Chris Rock, Enrique Murciano, Josh Bowman.
Movies produced by Michelle Danner
Best Acting School Los Angeles, California
.
The classes we offer at the studio are taught by professionals in the entertainment industry and provide serious instruction in the subject topics. Many students enrolled in classes at the studio have gone on to audition and/or participate in theater and film projects whether in front of the camera, on stage or behind the scenes.  However, we cannot and do not make any guarantees about your ability to work in the industry in any capacity or earn any money doing so.  Each individual's success is determined by their own talent, training and effort and motivation, but also by many outside factors. That is the nature of the entertainment industry.
Please note that although our studio offers many opportunities to participate in a variety of projects such as the film festival, web series, plays, shorts, and feature films, there is no guarantee that any student will be selected or that the timing for such opportunities will coincide with their time attending the studio.