INTERNATIONALLY ACCLAIMED ACTING COACH AND FILM DIRECTOR MICHELLE DANNER TRAVELS AROUND THE WORLD TEACHING HER MASTERCLASSES:
AUDITIONING FOR FILM & TV | GOLDEN BOX | BREAKING INTO HOLLYWOOD
Hollywood film director and acting coach Michelle Danner coaches A-List Actors privately and on set including Henry Cavill, Gerard Butler, Abigail Breslin, Zooey Deschanel, Penelope Cruz, Andy Garcia, Salma Hayek, James Franco, Seth Macfarlane, Michelle Rodriguez, Isla Fisher, Luke Wilson,Emily Van Camp, Donald Sutherland, Kyle MacLachlan, Mireille Enos, Taryn Manning, Ryan Phillippe, Chris Rock, Enrique Murciano, Josh Bowman. Her latest film "The Bandit Hound," is a family comedy and "Hello Herman" starring Norman Reedus (AMC's The Walking Dead), was released on to 100 million homes across the U.S. by Warner Brothers and is available in stores.
MICHELLE IS COMING TO SWEDEN
WORKSHOP ONE: 'THE GOLDEN BOX' INTENSIVE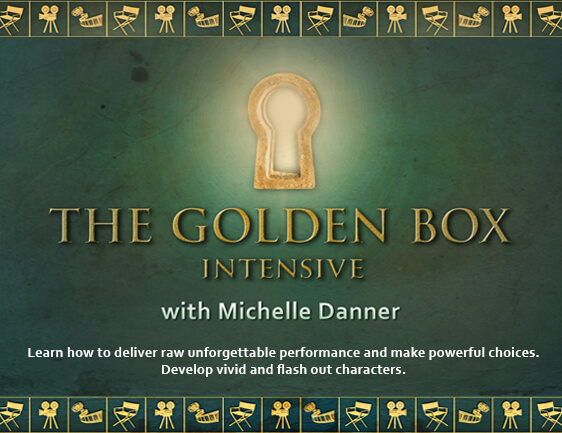 THE GOLDEN BOX 2-DAY ACTING INTENSIVE The Golden Box 2-Day Acting Intensive is an in-depth workshop that breaks down different acting techniques and "acting tools" that artists can draw upon to form an individual toolbox, their very own Golden Box. Michelle Danner will help you to develop your Golden Box of techniques and tools that you can use when approaching a role or a scene, whether it be for film, television, or theater. These acting techniques are based on those created by Meisner, Strasberg, Adler, Hagen, Chekhov, and Stanislavsky.Michelle Danner brings all elements of the craft together and helps actors learn how to use them, discover their creativity, and passion for the work. The class is supported by analysis and discussion from various film clips with performances by Meryl Streep, Judi Dench, Anthony Hopkins, Al Pacino, Marlon Brando, James Dean, and many others.
WHAT ACTOR'S LEARN – The Golden Box will teach actors how to get out of their head, follow their impulses, and begin to live completely in the moment. Actors will learn to access their full range of feelings and emotions at a moment's notice by finding their own unique emotional triggers based on their imagination and personal experiences. Actors will learn how to create vivid, fleshed out, and interesting characters through this intense and emotional workshop with lectures and technique exercises. Exercises will teach actors how to build provocative and complex backstories by opening up their instrument emotionally and finding triggers and psychological gestures in their work. This class has served as more than an acting seminar as past participants have discovered profound truths about themselves as artists.
WHO WILL BENEFIT – This technique is effective for actors of various skills. Actors around the world have found success studying with Michelle because she takes the emphasis off the dogmatic method and helps actors discover their own creativity.
THE CLASS FOCUSES ON ANSWERING THE FOLLOWING QUESTIONS:
Why are some choices more powerful than others?
How does one deliver a raw, unforgettable performance?
What specific tools can be applied to film, television, and stage work?
How does one develop a personal story from scratch and discover material for one woman/man show, screenplay, short film, or novel?
WORKSHOP TWO: 'AUDITION TECHNIQUE'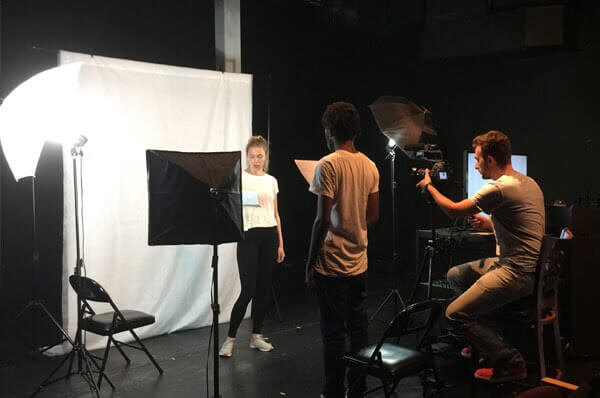 Students will learn to stamp their signature on a character with unique choices. This intensive aims to create an ease of working in front of the camera and the confidence to perform and to shine in every audition. Students will participate on camera with sides from movies and TV shows from all genres of writing, ranging from drama, comedy including sitcom, romantic comedy, slapstick and dark comedy.
WORKSHOP THREE: 'BREAKING INTO HOLLYWOOD'
Get ready for the business of acting in Hollywood before you get here. Includes the road map needed to embark on a career as an actor in Hollywood.
Please contact Alexandra Guarnieri at (310) 392-0815 or via Skype at edgemar.center.for.the.arts.
Check Film Director & Los Angeles acting coach Michelle Danner's future producing & directing projects. *Visit her film production company "All In Films."
---
ABOUT MICHELLE DANNER
Michelle Danner is a world-renowned acting coach, film and stage director, author, and teacher. It was her father, Alexander, who opened the very first William Morris Agency in Paris, France, that instilled a strong passion and work ethic in her that has stayed with her throughout her life.
Michelle has taught acting for the last 24 years and has worked with many A-List Actors privately and on set including: Chris Rock, Gerard Butler, Seth MacFarlane, Melanie Brown, Jamie Lynn Sigler, Penelope Cruz, Verne Troyer, Grant Bowler, Kate Del Castillo, Michael Pena, Isla Fisher, Common, Jennifer Grant, Salma Hayek, Chris Martin, Brian McKnight, James Franco, Marcia Cross, Christian Slater, Catherine Bell, Zooey Deschanel, Gabrielle Union, Justin Chatwin, Jennifer Coolidge, Justine Wadell, Rob Estes, Rick Fox, Henry Cavill, Michelle Rodriguez and many others.

Voted favorite acting coach by Backstage readers. She was brought in for her expert coaching on the WB show The Starlet and was featured with Andy Richter on The Tonight Show with Conan O'Brien.
Michelle trained extensively in Paris and New York with Stella Adler and Uta Hagen. She was the Managing Director of the Larry Moss Studio since it's inception in Los Angeles for 20 years.
She teaches the Golden Box workshops in South America, Europe, Toronto, Vancouver, Dubai, New York, Sydney, and Australia. She has taught in several cities including Johannesburg, Cape Town, Istanbul, Paris, and Moscow.
In 2006, she made her feature film directing debut How to go Out on a Date in Queens which was nominated and won four L.A. Film Awards including Best Director. Her production company, All in Films, has several projects in the works: You're on the Air, The Bandit Hound II, and The Will To…
Her second film Hello Herman starring Norman Reedus (AMC's The Walking Dead), Martha Higareda, and Garrett Backstrom. The film premiered at the Hollywood Film Festival to a sold out audience and had its international premiere at the Monaco Charity Film Festival where it won the award for social relevance. It opened in June 2013 and was distributed on VOD in 100 million homes across the U.S. by Warner Brothers.
She is putting the finishing touches on her acting book, The Golden Box, which will be released this year. www.michedanner.com
---
WORK & STUDY ACTING IN HOLLYWOOD
10820 Washington Blvd, 90232 Culver City, CA Skype: live:.cid.9ef1fb7fafb0ffec
Please call Michelle Danner Los Angeles Acting School for more information at 310-392-0815 or contact us here.