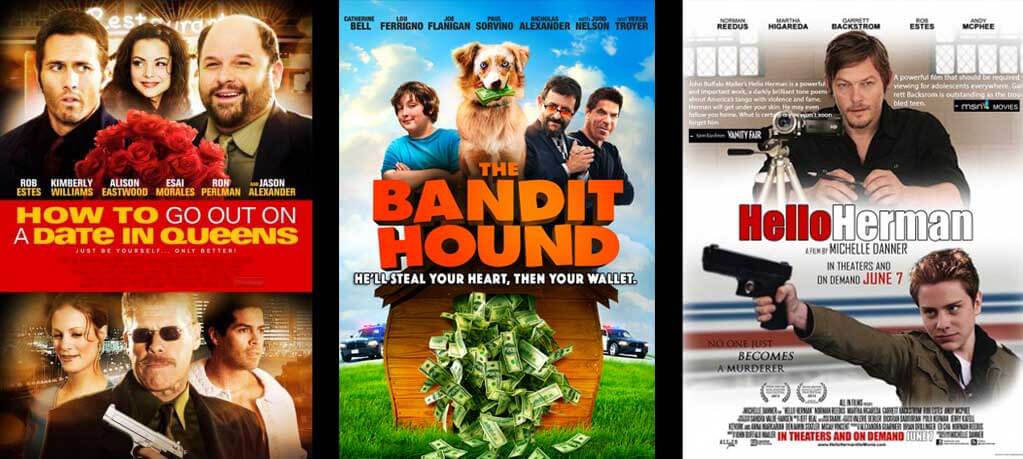 About All In Films:
Michelle Danner and Alexandra Guarnieri head the independent film production company, All In Films, and have produced several films, including Hello Herman, and soon to be released, The Bandit Hound. All in Films, has several film projects in development, including a television series of The Bandit Hound and a sequel to the movie. The mission of All In Films is to produce high-quality, independent movies geared to entertain & spark social commentary.
"The Bandit Hound" is a Dove certified Family Friendly movie that was released by Alchemy on April 12, 2016, on VOD, Blu-Ray, and DVD.  
"Hello Herman" written by John Buffalo Mailer, starred Norman Reedus  ("The Walking Dead" and "Boondock Saints") and Martha Higareda ("McFarland, USA" and "Carlos"). "Hello Herman," is a compelling drama about a tragic Columbine-esque school shooting and its devastating effects. The movie premiered at the Hollywood Film Festival and had its international premiere at the Monaco Charity Film Festival winning the award for socially relevant film and was released in 2014 nationwide. 
In 2006, she made her feature film-directing debut with "How to Go Out on a Date in Queens," which won four LA Film Awards including Best Director. It starred Jason Alexander, Esai Morales, Ron Perlman, Kimberly Williams, Rob Estes, and Alison Eastwood.
The Bandit Hound
NOW AVAILABLE!

A lovable dog, Bandit, is trained to pull off bank robberies, but after a heist gone wrong he's rescued by a single mom and her son.
The Bandit Hound is a funny and heartwarming tale about a lovable little dog, Bandit, who is taught to rob banks by a dog whisperer gone awry. When Bandit's trainer is almost captured by the police, he leaves Bandit behind in order to save his own skin. Bandit is sent to the pound where he is adopted by a young boy, Owen, and his recently unemployed and widowed mom. As the friendship between young Owen and Bandit grows, the former nefarious trainer suddenly reappears and tries to steal Bandit back. What follows is a hilarious and heroic adventure, with lots of cute kids, delightful dogs, romance and fun!
It's become almost impossible for the small independent movie with heart and humanity to get made. Studios certainly aren't financing them, not enough profit. Even the smaller financing companies are too afraid to take a risk on a movie that doesn't have something blowing up or lots of people getting hurt. Thanks to Kick Starter and caring and generous movie goers like you, we can keep the tradition of the smaller budget provocative and poignant indie film alive.
The Bandit Hound is a film that will appeal to both kids and adults.  It shares a wonderful message about loving and adopting dogs.  The Bandit Hound illustrates that love is what matters, not money.
With your support we can bring this loving and light hearted tail to the screen.  Please view the list of rewards we are offering for your contribution.  From Paw-tographed movie posters, to lunching with the cast, walk on acting roles and even Associate Producer credit, there's something to appeal to all.  Most importantly will be the satisfaction of being a part of the team bringing you this heartwarming, dog loving, belly laughing, feel good movie!
Visit www.bandithoundthemovie.com for more information and updates
Hello Herman
Michelle Danner is proud to present her latest directorial feature, Hello Herman starring: Norman Reedus , Martha Higareda, and Garrett Backstrom. The movie premiered to a sold out crowd at the Hollywood Film Festival, and premiered at the Monaco Film Festival. Hello Herman opened in 10 major cities across North America, with simultaneous availability on Time Warner On-Demand in 100 million US homes.  The trailer for Hello Herman can be viewed at www.allinfilms.com. 

As a problem that typically goes unnoticed until tragedy strikes, raising awareness about the effects of bullying has become an urgent social topic. Hello, Herman is a poignant examination of the making of a teenage school shooter. The movie explores why and how a massacre like this can happen in our society, the desensitizing of America, youth violence and bullying, the impact the media has on our individual quest for fame and recognition, and ultimately our need for connection.   Its provocative and powerful subject matter speaks to teens, parents, educators, and anyone who has endured the universal experience of needing to be heard. We hope this movie's open and honest look into our collective conscience will leave a lasting impact on any audience.