DIRECTORA DE CINE Y PROFESORA DE ACTUACIÓN
MICHELLE DANNER VA A ENSEÑAR ESTA CLASE EN PANAMA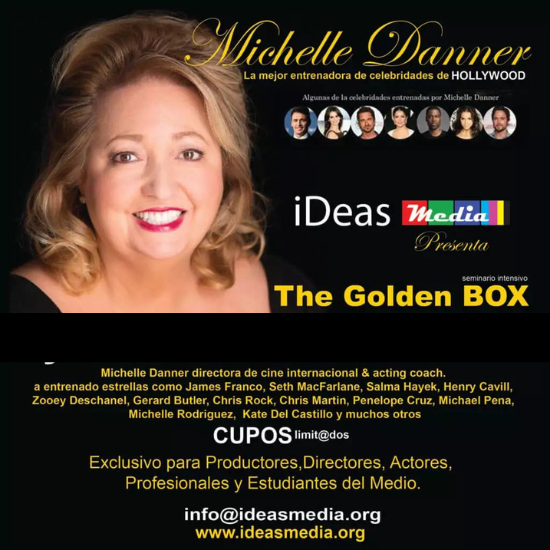 Las técnicas que enseña Michelle Danner abarcan: Meisner, Lee Strasberg, Adler, Uta Hagen, Chekhov y la técnica de Stanislavsky. La directora de cine y profesora de actuacion, Michelle Danner ha entrenado a A-List actores incluyendo a James Franco, Chris Rock, Gerard Butler, Seth MacFarlane, Penelope Cruz, Henry Cavill, Salma Hayek, Chris Martin, entre muchos mas. Su última película "The Bandit Hound" es una comedia familiar y "Hello Herman" protagonizada por Norman Reedus (actor de "The Walking Dead" de AMC) fue lanzado en 100 millones de casas en los Estados Unidos por Warner Brothers y está disponible en las tiendas.
El link para hacer las compras de la clase de "Golden Box:
https://ventas.ticketplus.com.pa/eventperformances.asp?evt=769   
El evento va tomar lugar en el Hotel A Loft Panama.
las personas interesadas pueden comunicarse con nosotros para descuentos especiales en Hotel y otros en la Ciudad de Panamá a info@ideasmedia.org
---
TALLER DE ACTUAR-'THE GOLDEN BOX' INTENSIVE:
​​​​Dos días intensivos de análisis de guión y técnica  con Michelle Danner. Descubre las respuestas a las siguientes preguntas: ¿Por qué algunas decisiones son más poderosas que otras?  ¿Cómo puedes dar tu mejor interpretación? ¿Qué herramientas específicas puedes utilizar para cine, teatro y televisión? ¿Cómo se desarrolla una historia personal a partir de cero?
Aprenda cómo crear personajes dinamicos, desarrollados e interesantes en un emotivo e intenso trabajo de técnica, lectura y ejercicios corporales. Golden Box es un curso intensivo de dos días en el que aprenderá a través de una conferencia, las técnicas utilizadas en nuestro estudio de actuación.
Michelle Danner enseña una técnica que es útil para actores de diferentes niveles. Golden Box te enseñará a cómo salir de tu cabeza, y vivir  el momento. Esto lo lograrán encontrando sus propias técnicas emocionales. Aprenderán a cómo tener un rango completo de emociones para expresar en el momento adecuado.
Si te gustaria recibir mas informacion acerca de nuestra escuela puedes hacer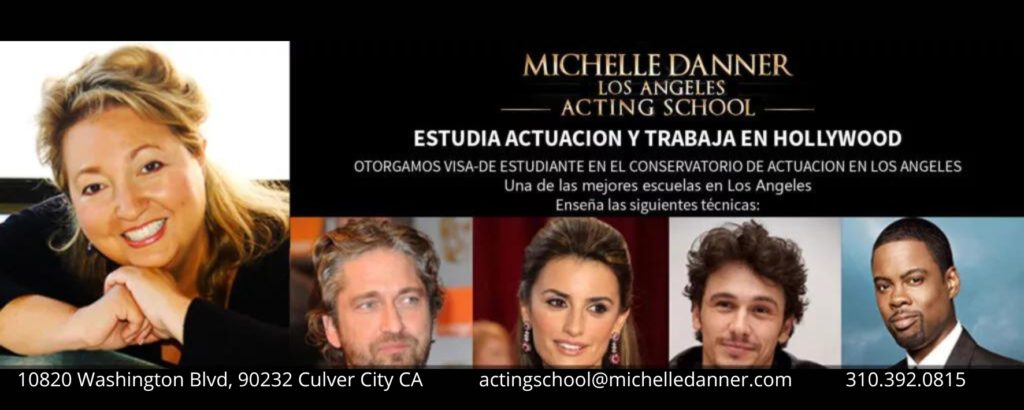 MICHELLE DANNER's LOS ANGELES ACTING SCHOOL
Si te gustaria recibir mas informacion acerca de nuestra escuela puedes hacer Skype: 
live:.cid.9ef1fb7fafb0ffec
 puedes comunicarte con nosotros al Telefono: 
(310) 392-0150 
mandanos un correo electronico a:
actingschool@michelledanner.com
---
 FILMS DIRECTED BY MICHELLE DANNER
Through her production company, All in Films, Michelle has produced and directed films that have featured stars such as Norman Reedus, Lou Ferrigno, Judd Nelson, Jason Alexander, and Catherine Bell.
All in Films, LLC, is an American independent movie production company founded by director, producer and award-winning acting coach Michelle Danner. It is a full-service film & entertainment studio based in Santa Monica, California, with a mission to craft quality content across all media.
www.allinfilms.com

THE BANDIT HOUND TALLER DE A
A lovable dog named Bandit is trained to pull off bank robberies, but after a heist gone wrong he's rescued by a single mom and her son. Then he starts stealing cash to help his new family, Bandit sets them on a collision course with his ex-partners.
Starring CATHERINE BELL ( JAG, Bruce Almighty, Army Wives), LOU FERIGNO (The Incredible Hulk), JOE FLANIGAN (Stargate: Atlantis, 6 Bullets,The Other Sister), PAUL SORVINO (Goodfellas, Romeo + Juliet, Repo! The Genetic Opera), BLUE GREENE (The Bandit Hound, Kids in the House TV), NICHOLAS ALEXANDER (The Bandit Hound, Uncensored Hollywood), JUDD NELSON (The Breakfast Club, Jay and Silent Bob Strike Back, Suddenly Susan), and VERNE TROYER ( Harry Potter and Sorcerer's Stone, Austin Powers: The Spy Who Shagged Me, Austin Powers in Goldmember)

HELLO HERMAN
Sixteen-year-old Herman Howards (Garret Backstrom) makes a fateful decision. He enters his suburban school and commits a terrible act of violence. Seconds before his arrest he emails his idol, infamous journalist Lax Morales (Norman Reedus), telling him, "I want to tell my story on your show." Haunted by his own past, Morales is forced to confront the troubled teenager, now an inmate with an uncertain future in this Michelle Danner-directed film that explores how and why tragedies like this can happen in our society.
Starring NORMAN REEDUS (The Walking Dead, The Boondock Saints, Blade II), MARTHA HIGAREDA (No Manches Frida, Street Kings, Lies in Plain Sight), GARRETT BACKSTROM (The Motel Life, Hello Herman, Summer Snow), ROB ESTES (Silk Stalkings, Melrose Place, 90210), and ANDY MCPHEE (Saving Mr. Banks, Wolf Creek, Animal Kingdom).

HOW TO GO OUT ON A DATE IN QUEENS
A self-proclaimed dating expert tries to get his best friend, who lost his wife two years earlier, back into the dating scene, with disastrous results.
Starring ROB ESTES (90210, Melrose Place, Silk Stalkings), KIMBERLY WILLIAMS (According to Jim, Father of the Bride, Father of the Bride Part II), ALISON EASTWOOD (Midnight in the Garden of Good and Evil, Tightrope, Absolute Power), ESAI MORALES (La Bamba, NYPD Blue, Rapa Nui), RON PERLMAN (Hellboy, Hand of God, Blade II), and JASON ALEXANDER (Seinfeld, The Hunchback of Notre Dame, Pretty Woman)
---
ABOUT MICHELLE DANNER
Michelle Danner is a world-renowned acting coach, film and stage director, author, and teacher.
It was her father, Alexander Valdez, who opened the very first William Morris Agency in Paris, France, that instilled a strong passion and work ethic in her that has stayed with her throughout her life.
Michelle has taught acting for the last 24 years and has worked with many A-List Actors privately and on set including: Henry Cavill, Gerard Butler, Abigail Breslin, Zooey Deschanel, Penelope Cruz, Andy Garcia, Salma Hayek, James Franco, Seth Macfarlane, Michelle Rodriguez, Isla Fisher, Luke Wilson,Emily Van Camp, Donald Sutherland, Kyle MacLachlan, Mireille Enos, Taryn Manning, Ryan Phillippe, Chris Rock, Enrique Murciano, Josh Bowman.

---