MICHELLE DANNER VA A ENSEÑAR ESTA CLASE EN MEXICO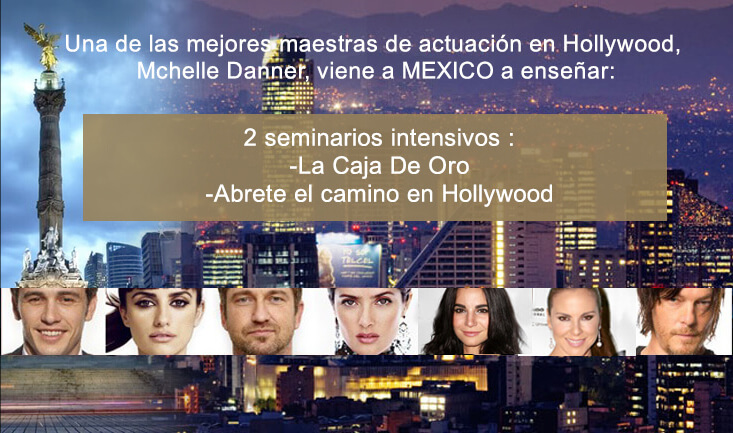 Director de cine e profesor de actuación Hollywood Michelle Danner enseña a sus seminarios de actuación en Español.  La lista de actores con los que ha trabajado incluye: Henry Cavill, Gerard Butler, Abigail Breslin, Zooey Deschanel, Penelope Cruz, Andy Garcia, Salma Hayek, James Franco, Seth Macfarlane, Michelle Rodriguez, Isla Fisher, Luke Wilson,Emily Van Camp, Donald Sutherland, Kyle MacLachlan, Mireille Enos, Taryn Manning, Ryan Phillippe, Chris Rock, Enrique Murciano, Josh Bowman entre otros. Michelle, enseña internacionalmente en Europa, Toronto, Vancouver, Russia, South Africa, Dubai, Los Angeles, Mexico, Columbia, Peru y New York.
Las técnicas que enseña Michelle Danner abarcan: Meisner, Lee Strasberg, Adler, Uta Hagen, Chekhov y la técnica de Stanislavsky.
MICHELLE DANNER
Michelle
 Danner es una directora de cine y de escena, autora y una coach de actuación de renombre. 
Michelle
 ha enseñado interpretación durante los últimos 29 años y ha trabajado con muchos actores A-List de manera privada y en set como 
Henry Cavill, 
Gerard Butler, 
Abigail Breslin, 
Zooey Deschanel, 
Penelope Cruz, 
Andy Garcia, 
Salma Hayek, 
James Franco, 
Seth Macfarlane, 
Michelle

 Rodriguez, 
Isla Fisher, 
Luke Wilson,
Emily Van Camp, 
Donald Sutherland, 
Kyle MacLachlan, 
Mireille Enos, 
Taryn Manning, 
Ryan Phillippe, 
Chris Rock, 
Enrique Murciano, 
Josh Bowman. Enseña los talleres de interpretación the Golden Box en 

South America, Europe, Canada, Dubai, New York y Australia.
Enseña los talleres de interpretación the Golden Box en 
South America, Europe, Canada, Dubai, New York y Australia. Fue su padre, quién abrió la primera agencia William Morris en París, quien le inculcó una fuerte pasión y ética de trabajo que ha permanecido con ella durante su vida. 
Michelle

 ha enseñado interpretación durante los últimos 29 años y ha trabajado con muchos actores A-List de manera privada y en set y fue votada coach de interpretación favorita por los lectores de Backstage. Fue contratada por su experticia entrenando con Andy Richter en 

the Tonight Show con Conan O'Brien y tuvo una aparición como invitada especial en el WB show The Starlet.
Michelle

 se formó extensamente en París y Nueva York con Stella Adler y Uta Hage. Ella es la directora fundadora del Edgemar Center for the Arts, diseñado por Frank Ghery, y recaudó $1.3 millones para constuir los dos teatros y la galería de arte en el Centro. En la ceremonia de apertura, Steven Spielberg comentó: "Aquí tenemos un lugar que puede presentar algunos artistas extremadamente experimentados, atrevidos e ingeniosos". Actualmente se desempeña como directora artística e imparte clases continuas en el Estudio de 

Michelle

 Danner y el Conservatorio de Actuación de Los Ángeles.
Sus aspectos más destacados en Edgemar han sido ser pioneros en nuevos trabajos. 

Michelle

 ha dirigido y actuado en más de treinta obras de teatro y musicales en Nueva York y Los Ángeles. Sus créditos favoritos de actuación y dirección incluyen The Rose Tattoo, de Tennessee William, que obtuvo la selección de la crítica y premios como el de mejor actriz y dirección Jane Fonda en Court of Public Opinion, protagonizada por Anne Archer.
En 2006, hizo su debut como directora de largometraje How to go out on a date in Queens, protagonizada por Jason Alexander, Esai Morales y Ron Perlman. Su segunda película, Hello Herman, protagonizada por Norman Reedus, Martha Higareda y Garrett Backstrom. Se estrenó en el Festival de Cine de Hollywood ante una audencia con entradas agotadas y tuvo su estreno internacional en el Festival de Cine de Caridad de Mónaco, donde ganó el premio a la relevancia social. The Bandit Hound, dirigida por 

Michelle

 Danner, una comedia familiar protagonizada por Catherine Bell, Lou Ferigno, Judd Nelson, Paul Sorvino y Verne Troyer, se estrenó en 2016.
La película de Michelle "Bad Impulse" se estrenó en diciembre de 2022, protagonizada por Grant Bowler, Sonya Walger y Paul Sorvino. Se encuentra en la posproducción del drama de suspenso judicial "Miranda's Victim" protagonizado por Abigail Breslin, Ryan Phillipe, Luke Wilson, Emily VanCamp, Mireille Enos, Kyle MacLachlan, Andy Garcia y Donald Sutherland sobre la creación de los Derechos Miranda. El thriller de acción "The Runner" será estrenado por Saban Film en cines exclusivos en agosto y ampliamente bajo demanda protagonizado por Edouard Phillipponnat, Cameron Douglas, Elisabeth Röhm y Eric Balfour.
Está en preproducción de varios proyectos, incluida la comedia romántica "Starstruck" y la comedia familiar "The Italians".
Workshop Intensivo 'The Golden Box' –
2 días intensivos de técnica actoral y análisis con Michelle Danner Aprenda cómo crear personajes vivos, desarrollados e interesantes en un emotivo e intenso trabajo de técnica, lectura y ejercicios corporales. GOLDEN BOX, es un curso de dos días intensivos en el que aprenderá a través de una conferencia, las técnicas utilizadas en nuestro estudio de actuación. Michelle Danner enseña una técnica que es útil para actores de diferentes niveles. El Golden Box te enseñará a cómo salir de tu cabeza, y vivir solo y completamente en el momento. Esto lo lograrán encontrando sus propios trucos emocionales, aprenderán a cómo encontrar un rango completo de emociones para expresar en el momento adecuado. Actores de todas partes del mundo, encontraron éxito al estudiar con Michelle Danner ya que ella hace énfasis en salir del método, y enfoca las energías en la creatividad misma del actor. Michelle te impulsará a crecer en la industria del cine, y a seguir adelante con tu carrera actoral. La clase está focalizada en responder a las siguientes preguntas: – Porqué algunas decisiones son mas importantes que otras? – Cómo hacer una actuación inolvidable? – Qué herramientas específicas pueden ser usadas en una película, serie o teatro? – Cómo uno puede, desde una historia personal, desarrollar una interesante historia para una novela, o actuación? La clase contiene video film clips. Se discutirán y analizarán diferentes performances como las de Meryl Streep, Judi Dench, Anthony Hopkins, Al Pacino, Marlon Brando, James Dean, y muchos otros.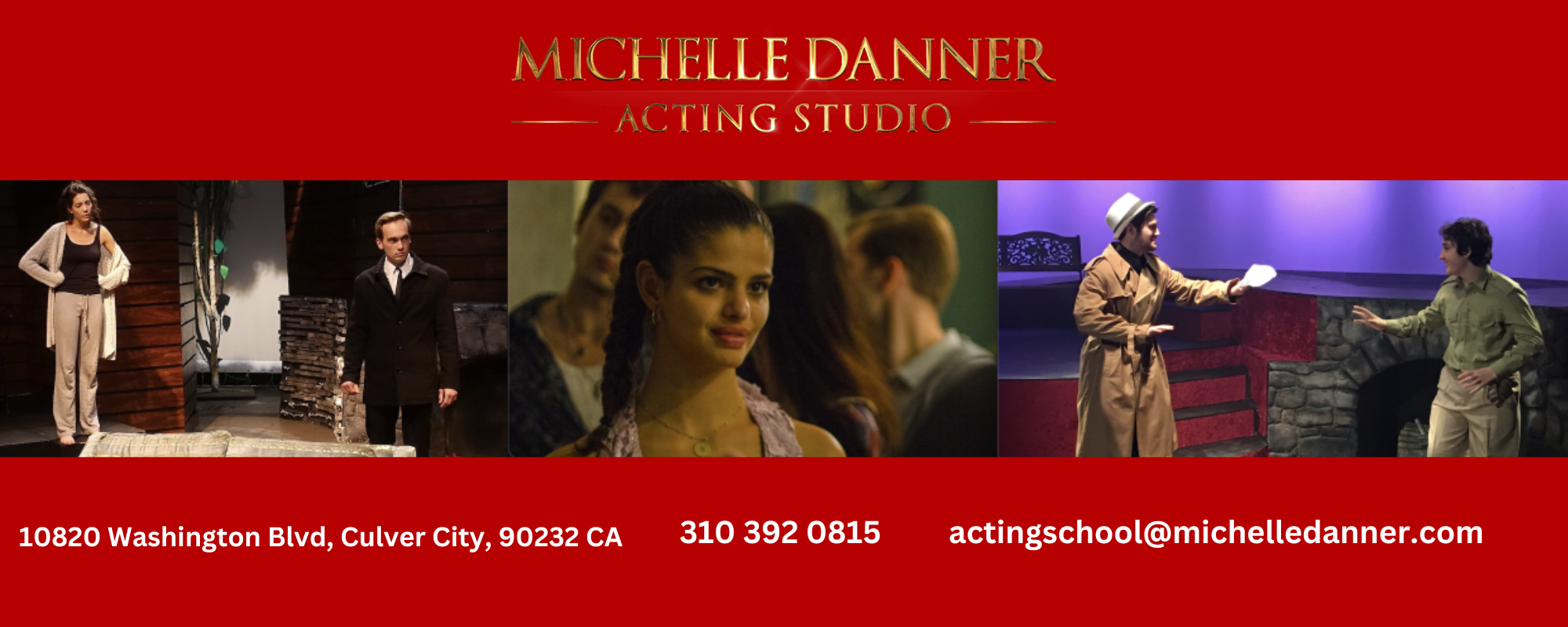 Workshop intensivo 'Audition Technique' –
Ingresando a la industria: guía del ingresante
Uno debe saber y conocer los diferentes aspectos de cómo promocionar y administrar su persona. "Toma 10 años en convertirse en actor" es lo que la mayoría de la gente escucha. Pero cómo uno puede hacerlo de una manera más corta? Cómo podrá cambiar su vida, si descubre las estrategias necesarias para conseguir un trabajo? Eso es exactamente lo que va a aprender en esta poderosa clase en la que sabrá cómo hacer dinero con su talento.
 Un taller interactivo que responde preguntas tales como:
 Conseguir una sesion de fotos espectacular que se destaque en cientos !
Como entrar en SAG-AFTRA!
Como crear una hoja de vida que  haga que te llamen.
Cómo encontrar agentes,managers, abogados y publicistas!
Como encontrar trabajo sin un agente!
Como funcionan los castings.
Como crear una estrategia individual para tu carrera.
Que hacer y no hacer en audiciones

Pros y Contras de exhibición de talentos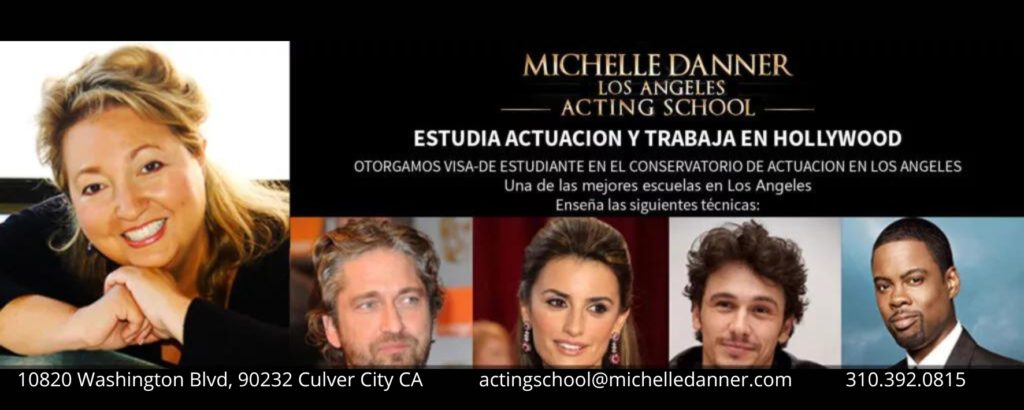 Si te gustaria recibir mas informacion acerca de nuestra escuela puedes hacer
Skype: live:.cid.9ef1fb7fafb0ffec puedes comunicarte con nosotros al Telefono: 310 • 392 • 0815 o mandanos un correo electronico a: actingschool@michelledanner.com