Learn Acting at one of the best acting colleges in California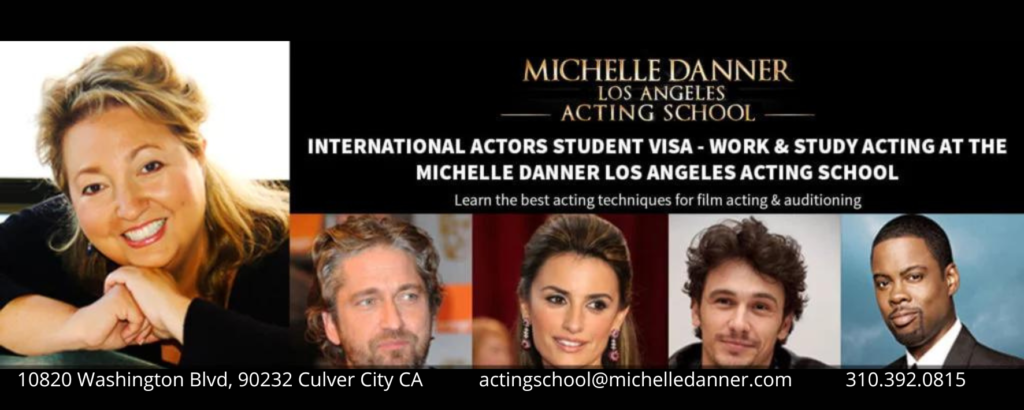 First of all in order to obtaining a student visa and entering our acting program at our Los Angeles Acting School you have to schedule a skype interview with the school.  Students that apply to our acting school, one of the best acting colleges in California, are hard working, passionate and looking for the best acting classes.
Furthermore you will need to fill out our application and pay a one-time $175 non-refundable application fee.
If accepted we will walk you through the I-20 visa process and help you with everything you need including a Sevis Form I-20. In addition you will also have to show evidence that you can pay for the cost of tuition and living expenses for the time you are here.
xxx
Student Visas
Furthermore a signed Sevis Form I-20 from Michelle Danner Los Angeles Acting School is necessary to apply for a student visa in your home country. Hence all of your documents are in order, you must apply for your M1 student visa at a US Consulate or Embassy. However, if you are a citizen of a "Visa Exempt Country" like Canada you do not need a visa for entry. Especially relevant is to make sure though that you have all required documentation with you at the U.S. Port of Entry.
If you are currently in the U.S. as a visitor or student at another school, and if you are looking for the best acting college in California,  you probably be able to apply to change your status and enroll or transfer to Michelle Danner Los Angeles Acting School.
---
About our acting school
Michelle Danner is an international film director & acting coach.
Her student list include James Franco, Seth MacFarlane, Salma Hayek, Henry Cavill, Zooey Deschanel, Gerard Butler, Chris Rock, Chris Martin, Penelope Cruz, Michael Pena, Michelle Rodriguez, Kate Del Castillo, Donald Sutherland, Andy Garcia, Abigail Breslin, Emily van Camp, Enrique Murciano,  and many others.
Michelle Danner's acting technique & philosophy called  "The Golden Box" is based on  the Meisner Technique, Lee Strasberg's Method, Stella Adler, Stanislavski's System, Uta Hagen, and the Chekhov technique.
Please call Michelle Danner Los Angeles Acting School for more information at 310-392-0815 or contact us here.
---
– Meisner Acting Technique
– The Stanislavski Method
– On camera acting classes
– Musical theatre classes Los Angeles
–  Accent Reduction Classes