Los Angeles Acting school: study-abroad with student visa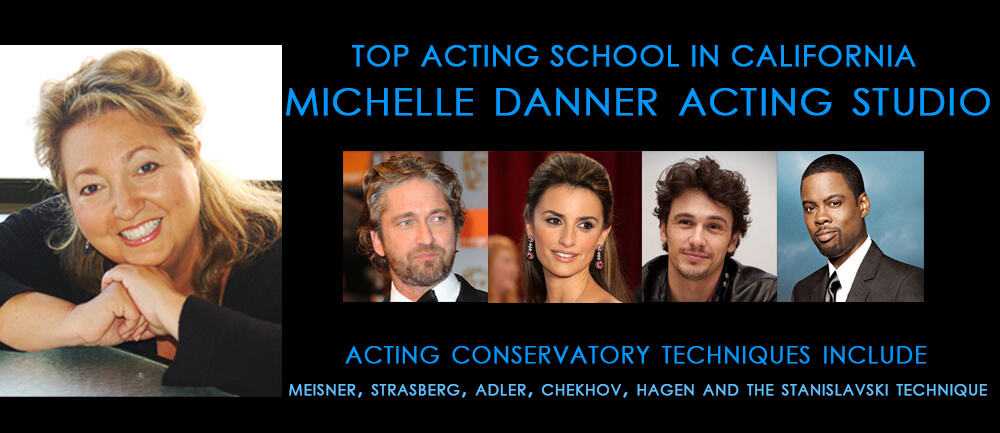 Best acting school in the USA, learn acting from the best
Work & Study Acting in Hollywood
The Michelle Danner Los Angles Acting Conservatory
VISA SPONSORSHIP AVAILABLE with OPT (OPTIONAL PRACTICAL TRAINING) WHICH ALLOWS YOU TO WORK IN THE COUNTRY AFTER YOUR STUDY'S END. ONLY FOR STUDENTS WHO PARTICIPATE IN THE 6 or 12 Month Program.
encompasses the following acting techniques:  Meisner, Strasberg, Adler, Hagen, Chekhov & the  Stanislavski Technique.
*WE HAVE SHORT AND LONG TERM WELL ROUNDED ACTING CONSERVATORY
Our mission is to provide a creative home to a community of passionate actors in LA for beginners/intermediate/advanced students
 Michelle Danner is considered one of the top acting coaches in Los Angeles as well as film and stage director and author. She is known as the 'celebrity whisperer' and hones talent from all over the globe. She's a therapist and acting coach and runs a hugely successful international drama school in Los Angeles, Her school is considered one of the best acting schools in los angeles. 
Danner counts  James Franco, Seth MacFarlane, Salma Hayek, Henry Cavill, Zooey Deschanel, Gerard Butler, Chris Rock, Chris Martin, Penelope Cruz, among her many clients. So powerful are her acting methods based on STELLA ALDER, MIKE LEIGH, MEISNER TECHNIQUE, UTA HAGEN, ROBERT LEWIS, MICHAEL CHEKHOV, LEE STRASBERG, AND STANISLAVSKI, she has reduced a stream of Oscar nominated actors to tears within minutes. International actors are able to receive visa sponsorship's once they are accepted into her performing arts school in Los Angeles. She teaches acting seminars internationally in South America, Europe, Toronto, Vancouver, Dubai, Sydney, Australia, Johannesburg, Cape Town, Istanbul, Paris, Peru, Chile, Columbia and Moscow.
*Take a look at the acting school in Los Angeles  video click here:
*Here are the links to see student testimonials
 Working in the USA
Our acting school in Los Angeles is located at Edgemar Center for the Arts, a 2 theater and art gallery complex in Santa Monica. The 6 & 12 month Well Rounded Training Intensive gives students the opportunity to build their resumes and IMDB credits, through practical training and our various casting opportunities. We also offer a Breaking into the Industry Seminar, which provides you with an understanding of the business side of acting. So that you can be ready when your program is complete and begin your work as an actor once approved for the OPT (Optional Practical Training). You will also be provided with a list of agents, and managers that represent international actors and how to best use them to your advantage.