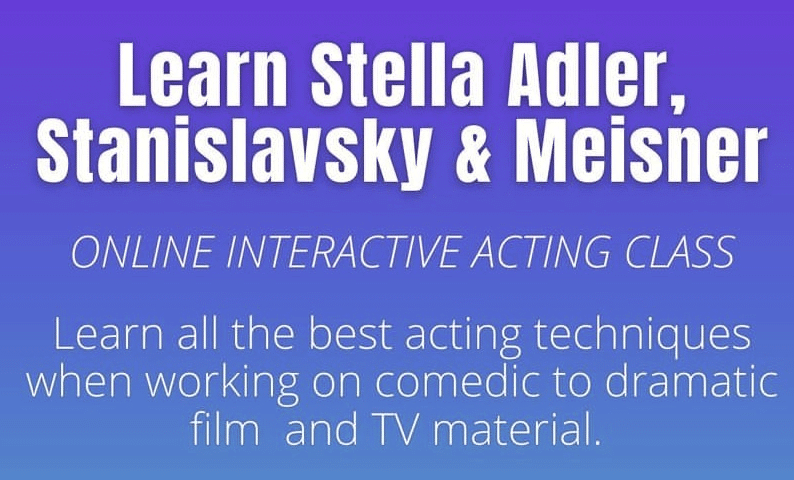 Take the next step to acting in LA join one of our beginner acting classes taught by top professionals in LA. We are considered in Los Angeles the top drama school for actors that want to work in the industry.
IN PERSON LIVE ACTING CLASSES AT OUR LOS ANGELES ACTING SCHOOL
MONOLOGUE ACTING CLASS:
Our acting school in Los Angeles teaches actors the practical tools for preparing both contemporary and classical audition monologues. The teacher will help you to find appropriate material that is well-suited to you.This class will prepare you with the right material to land you the perfect manager or agent.
The goal is for actors to finish the Bootcamp Monologue class with a repertoire of monologues for any audition.

The goal for each actor is to leave 2 contemporary (1 comedic 1, dramatic) and one classical audition ready monologues: contemporary comedic and dramatic, classical comedic and dramatic, one "out of the box." Students will select and bring in their own material to work on, as well as receive suggestions from the acting coach.

Thursday 11am – 2pm with Kate Bloomberg

Stella Adler Technique – Level 1 – 4You will learn the Stella Adler technique and explore the language and principles of Stella Adler's approach to acting, including action, circumstance, and justification. You will develop a foundation from which to build yourself as an actor. Stella Adler believed that an actor's talent lies within his imagination. She trained with Stanislavsky and studied the method but didn't believe that an actor needs to relive past experiences to connect with the character.Mondays 6:00 pm – 9:00 pm


*To ensure the health and safety of everyone the following precautions will be implemented

Students will:

1- Wear a mask at all times (except when on stage as provided below).
2- Sit at least 6 feet apart (Our theaters offer wide and open spaces perfect for social distancing)
3- When performing a scene or being on camera, students will be able to remove their mask but will have a huge see-through plastic divider placed between them and their acting partner.
4- Wash hands before entering the theaters and during breaks. Theater chair armrests and door knobs etc.. are cleaned before the start of each class and during lunch breaks.
5-We will also be doing temperature checks before you enter the theater.We have taken extra safety measures to be sure everyone will be safe while still enjoying a healthy learning environment

The Stanislavski Technique

The Stanislavski method is a set of techniques used by actors to portray emotions on stage by putting themselves in the place of the character. He believed in naturalistic performances that were as realistic as possible, and invented techniques that you can use. Saturdays at 3 pm-6 pm starting
MOVEMENT

Essential Breathwork and Embodiment Practices for Actors and Performers. This class will utilize the Alexander Technique and The Lucid Body Techniques in order to create proper alignment and connection to the body. We will work on specific texts to allow the actor to connect to the material in a way that is fully embodied, raw and emotional.
You will learn:
The fundamentals of focus and awareness practice to help in film and tv acting.
How to use the breath to create a deeper connection to your body and vocal register.
Tools to help with stage fright, pre-audition anxiety, and performance anxiety.
Healthy tips for getting into and out of characters
Somatic Movement practices that will help you to create instinctual and exciting choices for your characters and performances.
TUESDAY 11AM-2PM

The Michelle Danner Acting Studio's philosophy is that artists can draw upon all different acting techniques and form an individual toolbox, their own Golden Box. We will help you to develop your own "Golden Box" of techniques and tools that you can use when approaching a role or a scene, whether it be for film, television, or theater. The Acting School's acting techniques are based on Meisner, Strasberg, Adler, Hagen, Chekhov, & the Stanislavsky Technique. Michelle Danner is an international film director & acting coach. Her student list includes James Franco, Seth MacFarlane, Salma Hayek, Henry Cavill, Zooey Deschanel, Gerard Butler, Chris Rock, Chris Martin, Penelope Cruz, Michael Pena, Michelle Rodriguez, Kate Del Castillo, and many others. Check out the best acting classes in Los Angeles and the best acting teachers. Our acting school offers the following acting techniques in our acting classes: Stella Adler Technique| Meisner Acting Technique| The Stanislavski Method| Uta Hagen Technique. Below is a list of some of our acting classes: Acting Classes for Beginners
Acting Workshops: Breaking into Hollywood
Acting Workshops: Golden Box
Scene Study Class
Voice & Speech Class
Script analysis
Musical theatre classes Los Angeles
Accent Reduction Classes
Private coaching for film and tv auditions

Summer Camps Los Angeles| Acting classes for kids

Summer Camps Los Angeles | Acting Classes for teens

Auditioning for film and TV | Teen and kids

Online classes for teens

Learn Acting at one of the Best Acting Schools in Los Angeles
Phone: 310.392.0815 Email: actingclass@michelledanner.com