Breaking into the industry: The Insider's Guide to Accelerate Your Acting Success
 xxxxxxxxxxxxxxxxxxxxxx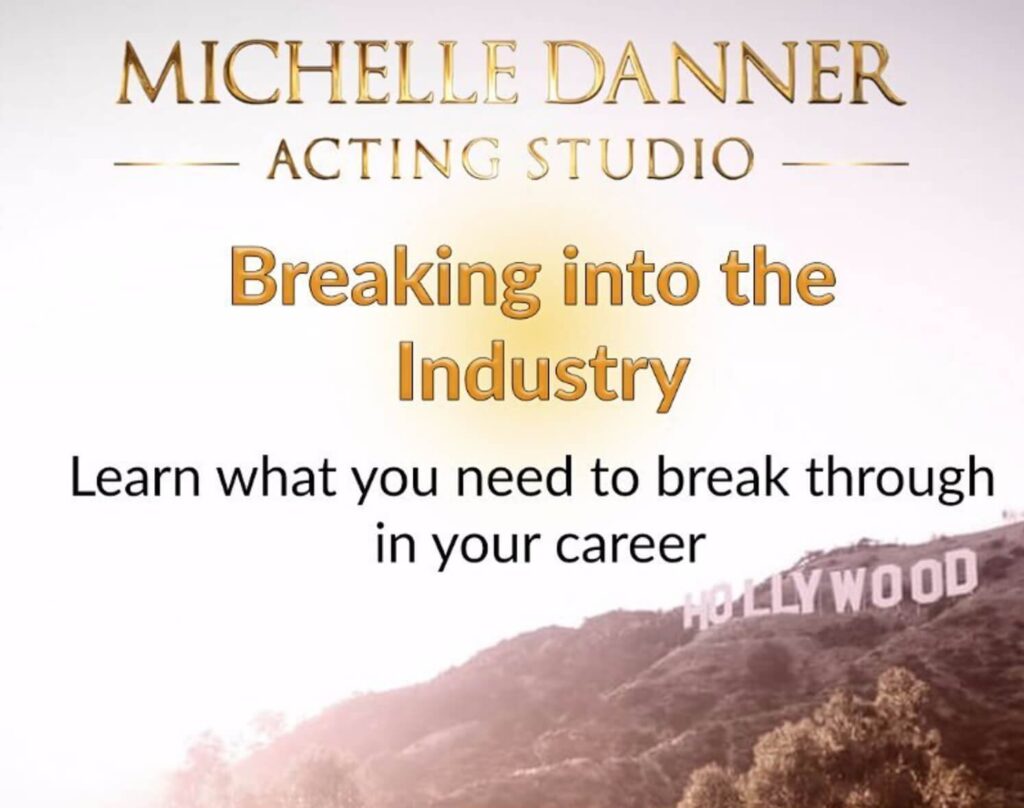 "It takes 10 years to become an actor and breaking  into the industry" is what most people hear.  But what if you could dramatically shortcut that time?  How would it change your life if you knew the insider strategies to breaking into the industry ?  That's exactly what you will learn in this powerful, career-changing intensive so that you can make money NOW with your craft.
Your interactive jam-packed crash course will include:
How to Apply the #1 Money-Making Principle that the most successful actors of today have used to generate a MASSIVE income
Why 90% of headshots are ineffective and how to make yours stand out to generate more auditions
Insider's Strategy to become SAG-AFTRA eligible within 2 weeks!
Not many credits?  Not a problem!  Creative and easy ways to boost your resume
How to Avoid the 5 biggest mistakes actors make when pursuing an agent
Casting: Demystifying the Process
Date: Monday, June 11th 2018 from 6pm-10pm
Price: $150
Bonus:  Participate in a goal planting exercise powered by Neuro-Linguistic-Programming technology that will bring your goals closer to you almost automatically
Prepares students with the tools required for breaking into the industry in Hollywood. It can take years for an actor to learn the ins and outs, and the do's and don'ts of the industry.
Michelle Danner uses her years of experience within the business as a director, teacher, and actress to give actors a head start, and bypass years of trial and error.
This class is for actors who need an agent, who are trying to get to the next level, who are unsatisfied with the amount of auditions they are getting, and who have an agent but need to book work.
5 REASONS YOU NEED TO COME TO THIS CLASS
Just moved to L.A.Just starting your Acting Career
Been Acting for a short/long time.
Don't have an Agent.
Have an Agent. Not getting auditions.
Have an Agent. Getting auditions but not booking.
An Interactive Workshop That Answers Your Questions
1 – How to get a headshot and show reel that stands out!
2 – How to get into SAG-AFTRA!
3 – How to create a resume that gets you called in!
4 – How to find agents, managers, lawyers, and publicists!
5 – How to get work without an Agent!
6 – How casting works!!
7 – How to develop an individualized strategy for your career!!
You'll leave this workshop with:
Your individualized action plan to take your career to the next level
Strategies that will save you thousands of dollars and years of time
Success Stories from Working with Jona:
"I just moved to LA two months ago (from London), and since [working with Jona], I've gotten myself 15 auditions, including Fox film and producer's callback for a major CBS film…all this while being non-union and with no agent, something people told me was 'impossible."
-Rayman Jilani
"Using Jona's innovative and cutting-edge tools, I have over 15 requests for meetings from agents and managers that I truly wanted to work with (ex. Innovative Artists, KSR, etc.), with only 2 student film credits.  We generated a target list and creatively packaged my submission to stand out amongst the rest."
– Brian Chin
"I just booked 4 projects including 2 commercials and I just started 2 weeks ago!  Thank you Jona for helping me become a working actor in such a short time!"
– Deyne Umphress
To meet with Michelle Danner in person to help you breaking into the industry, sign up for
los angeles acting classes
 or the 
Best Improv Classes in LA
please 
RSVP
 for the free informational session or call 
310-392-0815
or email us at
actingclass@michelledanner.com
The Michelle Danner Acting School
The Michelle Danner Los Angeles Acting School's philosophy is that artists can draw upon all different acting techniques from Meisner, Strasberg, Adler, Hagen, Chekhov, & the Stanislavsky Technique and form a toolbox of their own, their very own Golden Box.
She is a renowned acting coach and works with many A-List Actors privately as well as on set. These include James Franco, Penelope Cruz, Salma Hayek, Zooey Deschanel, Chris Rock, Gerard Butler, Seth MacFarlane, Melanie Brown, Jamie Lynn Sigler, Verne Troyer, Grant Bowler, Kate Del Castillo, Michael Pena, Catherine Bell, Gabrielle Union, Rob Estes, Rick Fox, and Michelle Rodriguez and many others.
Michelle trained with Stella Adler and Uta Hagen.
For more information you can also visit the website of the Edgar Center For the Arts
Michelle Danner is an international film director & acting coach. Her student list include James Franco, Seth MacFarlane, Salma Hayek, Henry Cavill, Zooey Deschanel, Gerard Butler, Chris Rock, Chris Martin, Penelope Cruz, Michael Pena, Michelle Rodriguez, Kate Del Castillo and many others.
This acting school offers the following acting classes
acting techniques:
– Stella Adler Technique
– Meisner Acting Technique
– The Stanislavski Method
-Uta Hagen
– Demo Reel
– On camera acting classes
– Scene Study Class– Beginning/Intermediate/ Advanced
– Voice & Speech Class
– Script analysis
– Musical theatre classes Los Angeles
–  Accent Reduction Classes
– Private Acting Classes
 Acting Workshops:
– Breaking into Hollywood
Private coaching | Audition Coaching | Online Coaching | Private Acting Classes
Acting auditions for teen and kids
KIDS ACTING CLASSES & acting summer camps
Check out our acting classes Los Angeles and acting school Los Angeles
Learn Acting at one of the Best Acting Schools in Los Angeles
2437 Main Street Santa Monica, CA 90405
Phone: 310.392.0815