Los Angeles Acting Workshop – The Golden Box with Michelle Danner
Saturday, June 8th and Sunday, June 9th from 10AM-4:30PM
GOALS OF THIS LOS ANGELES ACTING WORKSHOP
The Los Angeles acting workshop "The Golden Box" will teach you how to get out of your head, follow your impulses, and begin to live completely in the moment. By finding your own unique emotional triggers, you will learn to access your full range of feelings and emotions at a moment's notice. Learn how to create vivid, fleshed out, and interesting characters through an intense and emotional workshop. Supported with lectures and technique exercises. Michelle teaches a technique that is effective for actors of various skill levels. Actors around the world have found success studying with Michelle, because she takes the emphasis off the dogmatic method and helps actors discover their own creativity.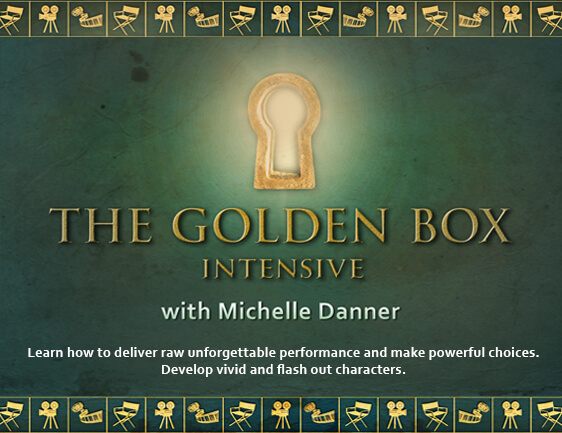 ACTING COACH LOS ANGELES: MICHELLE DANNER
Michelle Danner is an international film director & acting coach. Her student list includes James Franco, Henry Cavill, Zooey Deschanel, Gerard Butler, Penelope Cruz and many others. She trained with Stella Adler and Uta Hagen. She teaches internationally in Europe, Toronto, Vancouver, Dubai, and New York. Michelle was voted favorite acting coach by Backstage readers. She's also directed Hello Herman, starring Norman Reedus from the Walking Dead. The film opened nationwide with simultaneous availability on VOD in 100 million homes and premiered at the Hollywood Film Festival and won the award for Socially Relevant Film at the Monaco Charity Film Festival. Her production company, All in Films, produced her latest film The Bandit Hound which was released in 2016 and is in development for several upcoming projects: The Bandit Hound 2, and The Will To. Michelle's book The Golden Box will be released in 2017. Trailers for her films can be viewed at www.allinfilms.com.
---
Our 

 acting school
offers a variety of
acting workshops in LA
.
The
acting workshops 
 are designed to help you hone specific skills and explore new techniques as an actor. Workshops range from 1-day seminars to 8-week courses and are offered in the following areas: breaking into Hollywood the business of acting, Golden box acting technique.  Be sure to sign up below for notifications and

updates about upcoming dates.