Michelle Danner Teaching The Golden Box Workshop In South Africa
Capetown Workshop September 20th, 21st, 22nd
Waterfront Theatre School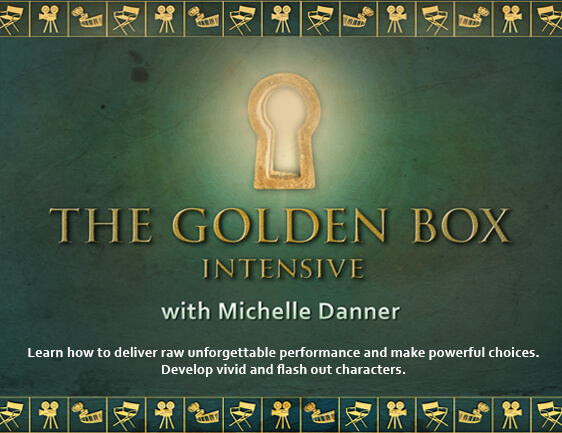 Michelle Danner Workshops in South Africa is scheduled for September !!
Learn how to create vivid, fleshed out, and interesting characters through an intense and emotional workshop with lectures and technique exercises. The Golden Box is a two day in depth lecture that breaks down the technical map used at The Studio.
The class focuses on answering the following questions:
Why are some choices more powerful than others?
How does one deliver a raw unforgettable performance?
What specific tools can be applied to film, television and stage work?
How does one develop a personal story from scratch and discover material for a one woman/man show, screenplay, short or novel?
The class is be supported by film clips. There are discussions and analyses of performances by Meryl Streep, Judi Dench, Anthony Hopkins, Al Pacino, Marlon Brando, James Dean and many others.
Exercises include learning how to build provocative and complex back stories by opening your instrument up emotionally and finding triggers and psychological gestures in your work. This class has served as more than an acting seminar as past participants have discovered profound truths about themselves as artists.
Study in L.A. – Well-rounded actor's training intensive with M-1 Visa Sponsorship
WORK AND STUDY IN HOLLYWOOD
The Michelle Danner Acting School provides a working knowledge of many powerful acting methods, and allows the student to discover a combination that works for them. Students develop a personalized process that will allow them to bring life to roles in a swift, consistent manner. The techniques are diverse and encompass the following schools of acting: Meisner, Hagen, Strasberg, Chekov, Adler, and the Stanislavsky Technique. It also provides M1 visa sponsorship for international actors.

Work & Study Acting in Hollywood
VISA SPONSORSHIP AVAILABLE!
with OPT (OPTIONAL PRACTICAL TRAINING) WHICH ALLOWS YOU TO WORK IN THE COUNTRY AFTER YOUR STUDY'S END. ONLY FOR STUDENTS WHO PARTICIPATE IN THE 6 or 12 Month Program.
encompasses the following acting techniques: Meisner, Strasberg, Adler, Hagen, Chekhov, & the Stanislavski Technique.
*Take a look at the school video click here:
*Here are the links to see student testimonials
10820 Washington blvd
Culver City, CA 90232
Phone: 310.392.0815
Fax: 310.399.2898
Skype: Edgemar.center.for.the.arts