Taller de Actuar costa-rica

MICHELLE DANNER VA AENSEÑAR ESTA

S

CLASE

S
EN 

COSTA RICA
'The Golden Box' Intensive
Taller de

 audición enfrete de la cámara

Las técnicas que enseña Michelle Danner abarcan: Meisner, Lee Strasberg, Adler, Uta Hagen, Chekhov y la técnica de Stanislavsky. Michelle Danner entrena a A-List Actors en privado y en el set incluyendo a James Franco, Chris Rock, Gerard Butler, Seth MacFarlane, Penelope Cruz, Henry Cavill, Salma Hayek, Chris Martin, entre muchos mas. Su última película "The Bandit Hound" es una comedia familiar y "Hello Herman" protagonizada por Norman Reedus (actor de "The Walking Dead" de AMC) fue lanzado en 100 millones de casas en los Estados Unidos por Warner Brothers y está disponible en las tiendas.
Taller de Actuar 1
'The Golden Box' Intensive: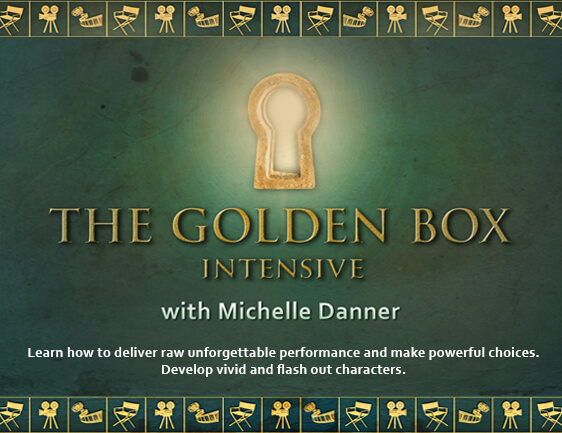 Dos días intensivos de análisis de guión y técnica avanzada con Michelle Danner. Descubre las respuestas a las siguientes preguntas: ¿Por qué algunas decisiones son más poderosas que otras?  ¿Cómo puedes dar tu mejor interpretación? ¿Qué herramientas específicas puedes utilizar para cine, teatro y televisión? ¿Cómo se desarrolla una historia personal a partir de cero?
Aprenda cómo crear personajes dinamicos, desarrollados e interesantes en un emotivo e intenso trabajo de técnica, lectura y ejercicios corporales. Golden Box es un curso intensivo de dos días en el que aprenderá a través de una conferencia, las técnicas utilizadas en nuestro estudio de actuación.
Michelle Danner enseña una técnica que es útil para actores de diferentes niveles. Golden Box te enseñará a cómo salir de tu cabeza, y vivir  el momento. Esto lo lograrán encontrando sus propias técnicas emocionales. Aprenderán a cómo tener un rango completo de emociones para expresar en el momento adecuado.
–
Taller de Actuar 2
AUDICIÓN EN FRENTE DE CAMARA: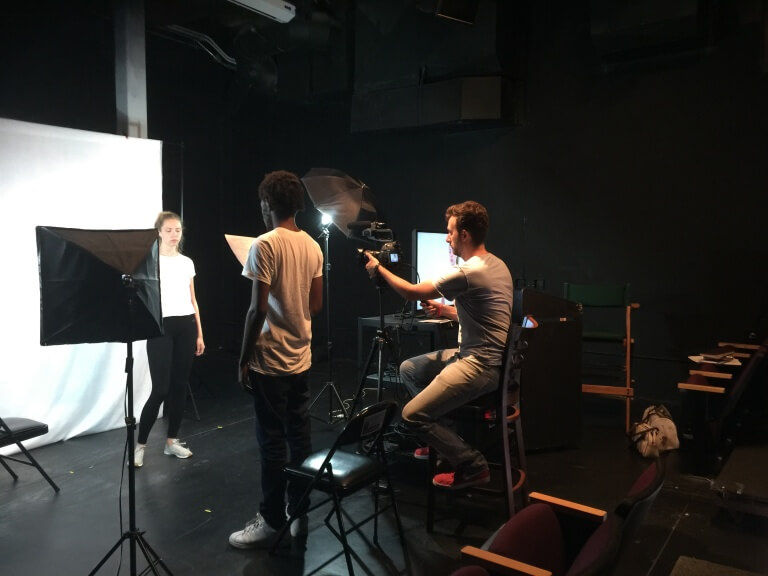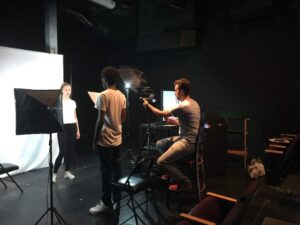 Aprende lo que los directores de casting están buscando! Incrementa tus contrataciones. Toma las clases que te ayudarán a conseguir ese personaje que tanto buscas!
Actores practicarán frente a la cámara con diferentes escenas de películas y series de televisión de diferentes géneros dramáticos. Aprende lo que los directores de castings están buscando. Estudio de escena para principiantes/intermedios/avanzados. Actores estarán preparados para trabajar en un ambiente de trabajo de escritores en el que podrán tomar riesgos a través de los instrumentos que ofrecemos en clase.
---
 FILMS DIRECTED BY MICHELLE DANNER
Through her production company, All in Films, Michelle has produced and directed films that have featured stars such as Norman Reedus, Lou Ferrigno, Judd Nelson, Jason Alexander, and Catherine Bell.
All in Films, LLC, is an American independent movie production company founded by director, producer and award-winning acting coach Michelle Danner. It is a full-service film & entertainment studio based in Santa Monica, California, with a mission to craft quality content across all media.
www.allinfilms.com

THE BANDIT HOUND 

Taller de a
A lovable dog named Bandit is trained to pull off bank robberies, but after a heist gone wrong he's rescued by a single mom and her son. Shen he starts stealing cash to help his new family, Bandit sets them on a collision course with his ex-partners.
Starring CATHERINE BELL ( JAG, Bruce Almighty, Army Wives), LOU FERIGNO (The Incredible Hulk), JOE FLANIGAN (Stargate: Atlantis, 6 Bullets,The Other Sister), PAUL SORVINO (Goodfellas, Romeo + Juliet, Repo! The Genetic Opera), BLUE GREENE (The Bandit Hound, Kids in the House TV), NICHOLAS ALEXANDER (The Bandit Hound, Uncensored Hollywood), JUDD NELSON (The Breakfast Club, Jay and Silent Bob Strike Back, Suddenly Susan), and VERNE TROYER ( Harry Potter and Sorcerer's Stone, Austin Powers: The Spy Who Shagged Me, Austin Powers in Goldmember)

HELLO HERMAN
Sixteen-year-old Herman Howards (Garret Backstrom) makes a fateful decision. He enters his suburban school and commits a terrible act of violence. Seconds before his arrest he emails his idol, infamous journalist Lax Morales (Norman Reedus), telling him, "I want to tell my story on your show." Haunted by his own past, Morales is forced to confront the troubled teenager, now an inmate with an uncertain future in this Michelle Danner-directed film that explores how and why tragedies like this can happen in our society.
Starring NORMAN REEDUS (The Walking Dead, The Boondock Saints, Blade II), MARTHA HIGAREDA (No Manches Frida, Street Kings, Lies in Plain Sight), GARRETT BACKSTROM (The Motel Life, Hello Herman, Summer Snow), ROB ESTES (Silk Stalkings, Melrose Place, 90210), and ANDY MCPHEE (Saving Mr. Banks, Wolf Creek, Animal Kingdom).

HOW TO GO OUT ON A DATE IN QUEENS
A self-proclaimed dating expert tries to get his best friend, who lost his wife two years earlier, back into the dating scene, with disastrous results.
Starring ROB ESTES (90210, Melrose Place, Silk Stalkings), KIMBERLY WILLIAMS (According to Jim, Father of the Bride, Father of the Bride Part II), ALISON EASTWOOD (Midnight in the Garden of Good and Evil, Tightrope, Absolute Power), ESAI MORALES (La Bamba, NYPD Blue, Rapa Nui), RON PERLMAN (Hellboy, Hand of God, Blade II), and JASON ALEXANDER (Seinfeld, The Hunchback of Notre Dame, Pretty Woman)
---

ABOUT MICHELLE DANNER
Michelle Danner is a world-renowned acting coach, film and stage director, author, and teacher.
It was her father, Alexander Valdez, who opened the very first William Morris Agency in Paris, France, that instilled a strong passion and work ethic in her that has stayed with her throughout her life.
Michelle has taught acting for the last 24 years and has worked with many A-List Actors privately and on set including: Chris Rock, Gerard Butler, Seth MacFarlane, Melanie Brown, Jamie Lynn Sigler, Penelope Cruz, Verne Troyer, Grant Bowler, Kate Del Castillo, Michael Pena, Isla Fisher, Common, Jennifer Grant, Salma Hayek, Chris Martin, Brian McKnight, James Franco, Marcia Cross, Christian Slater, Catherine Bell, Zooey Deschanel, Gabrielle Union, Justin Chatwin, Jennifer Coolidge, Justine Wadell, Rob Estes, Rick Fox, Henry Cavill, Michelle Rodriguez and many others.

Voted favorite acting coach by Backstage readers. She was brought in for her expert coaching on the WB show The Starlet and was featured with Andy Richter on The Tonight Show with Conan O'Brien. os Angeles 
Michelle trained extensively in Paris and New York with Stella Adler and Uta Hagen. She was the Managing Director of the Larry Moss Studio since it's inception in Los Angeles for 20 years.
She is the Founding Director of Edgemar Center for the Arts and raised $1.3 million to construct the two theaters and the art gallery at the Center. At the opening ceremony, Steven Spielberg commented, "Here we have a venue that can turn out some extremely experienced, daring and resourceful artists." She is currently serving as Artistic Director and teaches ongoing classes at the Michelle Danner Studio, housed at Edgemar.
She teaches the Golden Box workshops in South America, Europe, Toronto, Vancouver, Dubai, New York, Sydney, and Australia. She has taught in several cities including Johannesburg, Cape Town, Istanbul, Paris, and Moscow.
Michelle has directed and acted in over thirty plays and musicals in New York and Los Angeles. Her favorite acting credits include Tennessee William's The Rose Tattoo, which garnered LA Weekly critic's pick and five Dramalogue awards including best actress; House of Yes, Bright Ideas, Ibsen's Ghosts the world premiere of One White Crow. She plays the part of Alexandra in the upcoming feature film "Ovation" directed by Henry Jaglom.
She created and directed the musical "A Night at the Black Cat" which is at Edgemar. Michelle also produced and acted in the award-winning short film Dos Corazones, which premiered at the Nashville Film Festival and went on to win Best Cinematography & Audience Favorite at the Malibu Film Festival. Taller de Actuar
In 2006, she made her feature film directing debut How to go Out on a Date in Queens which was nominated and won four L.A. Film Awards including Best Director. It starred Jason Alexander, Esai Morales, Ron Perlman, Kimberly Williams, Rob Estes and Alison Eastwood. Her production company, All in Films, has several projects in the works: You're on the Air, The Bandit Hound II, and The Will To…
Her second film Hello Herman starring Norman Reedus (AMC's The Walking Dead), Martha Higareda, and Garrett Backstrom. The film premiered at the Hollywood Film Festival to a sold out audience and had its international premiere at the Monaco Charity Film Festival where it won the award for social relevance. It opened in June 2013 and was distributed on VOD in 100 million homes across the U.S. by Warner Brothers. 
She is putting the finishing touches on her acting book, The Golden Box, which will be released this year. Her latest film, The Bandit Hound, a family comedy starring Catherine Bell, Lou Ferigno, Judd Nelson, Paul Sorvino, and Verne Troyer, was released on April 12th, 2016, and is available on VOD. 
Michelle is in development for several projects and is in preproduction for a feature film – Perils of a Godsend, written by Marlon Campbell.
---
Work & Study Acting in Hollywood