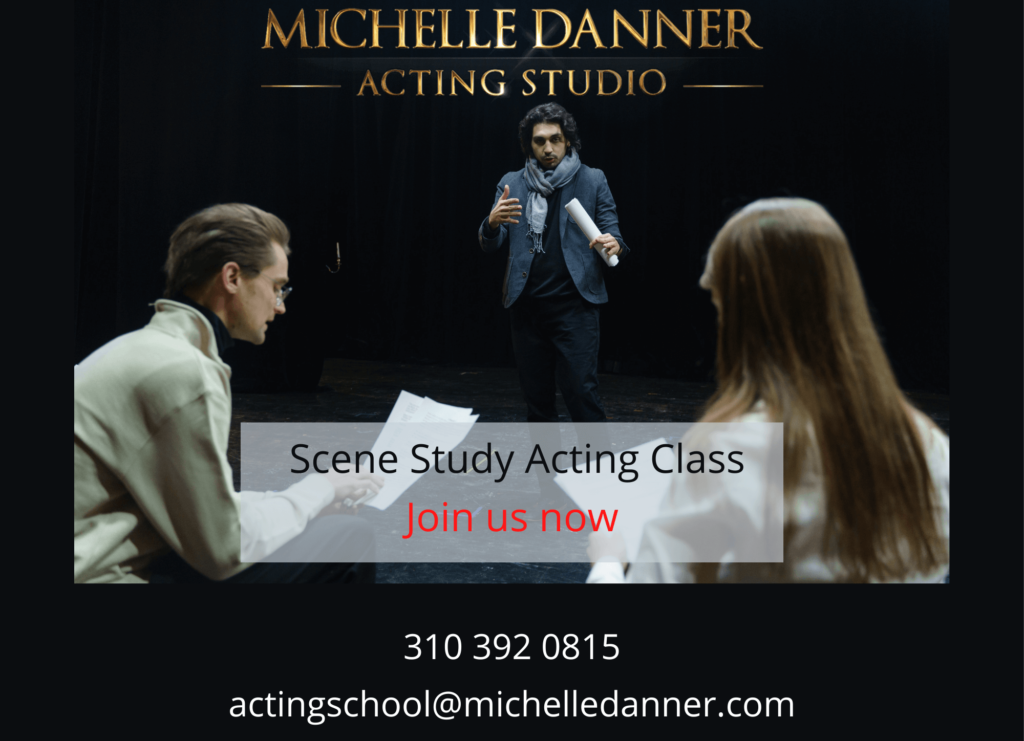 Our Scene study acting class will focus on script analysis, the world of the playwright, finding your authentic self in the works, connecting to your partner, and living moment to moment.
This class gives the actor a safe place to take risks, face challenges, stretch outside their comfort zones, unleash their imaginations, and keep their bodies/voices/minds alive and finely tuned thru relaxation, breath exercises. Scene Study Acting Class.
Friday 3:30pm-6:30pm or Tuesday 4pm-7pm
Contact us today to get started and reach your acting goals!
Check out the best acting classes in Los Angeles and the best acting teachers
Our acting school offers the following acting techniques in our acting classes:
Stella Adler Technique| Meisner Acting Technique| The Stanislavski Method| Uta Hagen Technique.
Below is a list of some of our acting classes:
New Acting Classes for Beginners
Acting Workshops: Breaking into Hollywood
Acting Workshops: Golden Box
Voice & Speech Class
Script analysis
Musical theatre classes Los Angeles
Accent Reduction Classes
Private coaching for film and tv auditions
Summer Camps Los Angeles| Acting classes for kids
Summer Camps Los Angeles | Acting Classes for teens
Auditioning for film and TV | Teen and kids
Additionally, we have a conservatory program where you can earn your Bachelor of Arts in the performing arts.
Phone: 310.392.0815 Email: actingschool@michelledanner.com
10820 W Washington Blvd, Culver City, 90232