Create Your YouTube Channel be the star of your show!
At the beginning of the week, students will learn how to utilize fundamental YouTube features and create content around their specific passion or interest. At the end of the week, students will have learned to:
Create their YouTube channel from scratch,
Configure their live stream, 
Engage a live audience on Twitch, 
Create engaging content for YouTube.
Saturday 2pm-5pm $345 per month for 2 month 
CALL TO SIGN UP 310-392-0815
Grow your YouTube channel. Learn how to connect with your audience and how to expand your creative strategies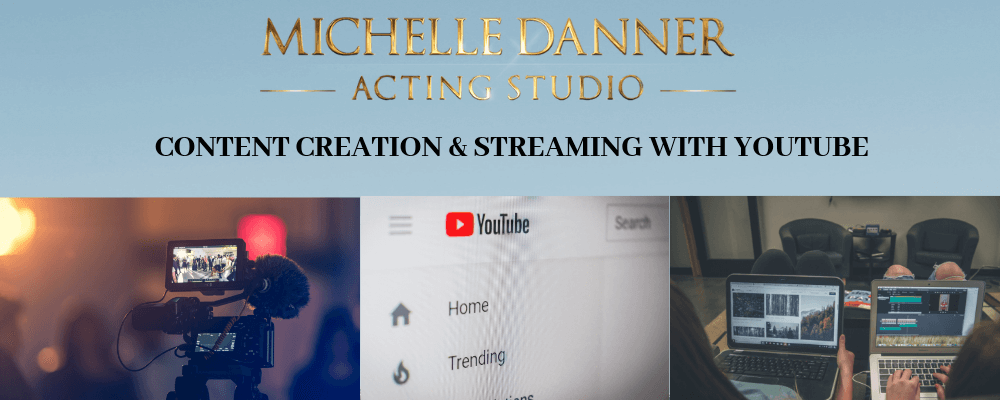 Learn the best acting techniques for film and TV. Book your next role.
Schedule a one on one interview with Michelle Danner to be considered for enrollment and to learn about all the acting classes and acting courses we offer in Los Angeles. *Learn how to stand out in the audition room.
The Michelle Danner Acting Studio's philosophy is that artists can draw upon all different acting techniques and form an individual toolbox, their own Golden Box. We will help you to develop your own "Golden Box" of techniques and tools that you can use when approaching a role or a scene, whether it be for film, television, or theater. The Acting School's acting techniques are based on Meisner, Strasberg, Adler, Hagen, Chekhov, & the Stanislavsky Technique.
Michelle Danner is an international film director & acting coach. Her student list include James Franco, Seth MacFarlane, Salma Hayek, Henry Cavill, Zooey Deschanel, Gerard Butler, Chris Rock, Chris Martin, Penelope Cruz, Michael Pena, Michelle Rodriguez,  Kate Del Castillo and many others.
Check out the best acting classes in Los Angeles and the best acting teachers
Learn Acting at one of the Best Acting Schools in Los Angeles
2437 Main Street Santa Monica, CA 90405
Phone: 310.392.0815
Email: actingclass@michelledanner.com