HOLLYWOOD ACTING COACH MICHELLE DANNER TEACHING/THE 2 DAY ACTING INTENSIVE-THE ACTOR'S GOLDEN BOX
For Beginner, Intermediate, & Advanced Actors. The Golden Box. A 2 day acting intensive teaches actors to draw upon all different acting techniques and form a toolbox of their own.
Michelle Danner Golden Box technique draws upon Meisner, Strasberg, Adler, Hagen, Chekhov & the Stanislavsky Technique. Learn how to create vivid, fleshed out, and interesting characters through an intense and emotional workshop with lectures and technique exercises. The Golden Box is a two day in depth lecture that breaks down the technical map used at The Studio.
Michelle teaches a technique that is effective for actors of all different levels. The Golden Box will show you how to get out of your head and begin to live completely in the moment. By finding your own unique emotional triggers, you will learn to access your full range of feelings and emotions at a moment's notice. Actors around the world have found success studying with Michelle because she takes the emphasis off of the "method", and helps actors rediscover their own creativity. Michelle will push you grow out of acting, and into artistry.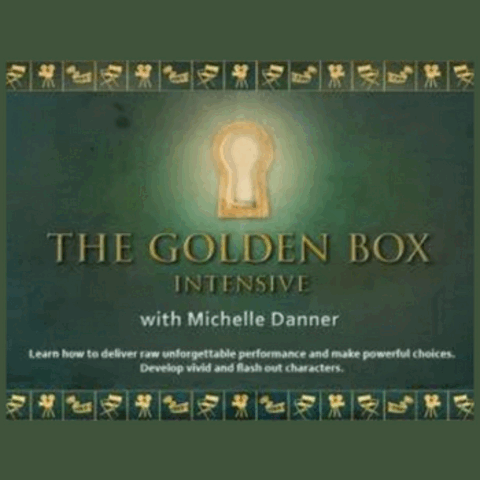 The Acting workshop focuses on answering the following questions:
– Why are some choices more powerful than others?
– How does one deliver a raw unforgettable performance?
– What specific tools can be applied to film, television and stage work?
– How does one develop a personal story from scratch and discover material for a one woman/man show, screenplay, short or novel?
Acting workshop Benefit to Writers:
The Golden Box helps writers understand the in-depth process on how to create characters that are layered, multi-dimensional and that will hook audiences in every genra.
The class takes them through a series of exercises, a layout of actor's tools and script analysis that can be applied to the writing process. The class is supported by film clips. There are discussions and analyses of performances by Meryl Streep, Judi Dench, Anthony Hopkins, Al Pacino, Marlon Brando, James Dean and many others.
Exercises include learning how to build provocative and complex back stories by opening your instrument up emotionally and finding triggers and psychological gestures in your work. This class has served as more than an acting seminar as past participants have discovered profound truths about themselves as artists.
EMAIL ACTINGSCHOOL@MICHELLEDANNER.COM OR CALL US AT 310-392-0815
Michelle has taught acting for the last 29 years and has worked with many A-List Actors privately and on set such as Henry Cavill, Gerard Butler, Abigail Breslin, Zooey Deschanel, Penelope Cruz, Andy Garcia, Salma Hayek, James Franco, Seth Macfarlane, Michelle Rodriguez, Isla Fisher, Luke Wilson,Emily Van Camp, Donald Sutherland, Kyle MacLachlan, Mireille Enos, Taryn Manning, Ryan Phillippe, Chris Rock, Enrique Murciano, Josh Bowman.
Based on Michelle Danner's last 30 years of supporting both A-List and up and coming actors to fulfill their maximum potential, film director and international acting coach Michelle Danner has distilled the best ideas and practices of the major acting techniques; Stella Adler, The Sanford Meisner, Lee Strasberg, Uta Hagen, Chekhov, & Stanislavsky so artists can draw upon them and utilize the strengths of each. Every actor is unique, so you will learn to form a toolbox of your own, your very own "Golden Box". Through studying Michelle Danner's acting technique, you will accumulate a comprehensive set of "acting tools" you can use when approaching a role or a scene, whether it be for film, television, or theater.
Check out the best acting classes in Los Angeles and the best acting teachers
Our acting school offers the following acting techniques in our acting classes:
Stella Adler Technique| Meisner Acting Technique| The Stanislavski Method| Uta Hagen Technique.
Below is a list of some of our acting classes:
Classes for Beginners
Acting Workshops: Breaking into Hollywood
Acting Workshops: Golden Box
Scene Study Class
Voice & Speech Class
Script analysis
Musical theatre classes Los Angeles
Accent Reduction Classes
Private coaching for film and tv auditions
Summer Camps Los Angeles| Acting classes for kids
Summer Camps Los Angeles | Acting Classes for teens
Auditioning for film and TV | Teen and kids
Additionally, we have a conservatory program where you can earn your Bachelor of Arts in the performing arts.
Phone: 310.392.0815 Email: actingschool@michelledanner.com
10820 W Washington Blvd, Culver City, 90232