My name is Anna and I'm reaching out from Atomic Honey, a casting company based in Los Angeles.  We're currently casting for the feature film Alexander (And the Terrible, Horrible, No Good, Very Bad Day) for Disney and are doing a wide search for our ALEXANDER. Casting Call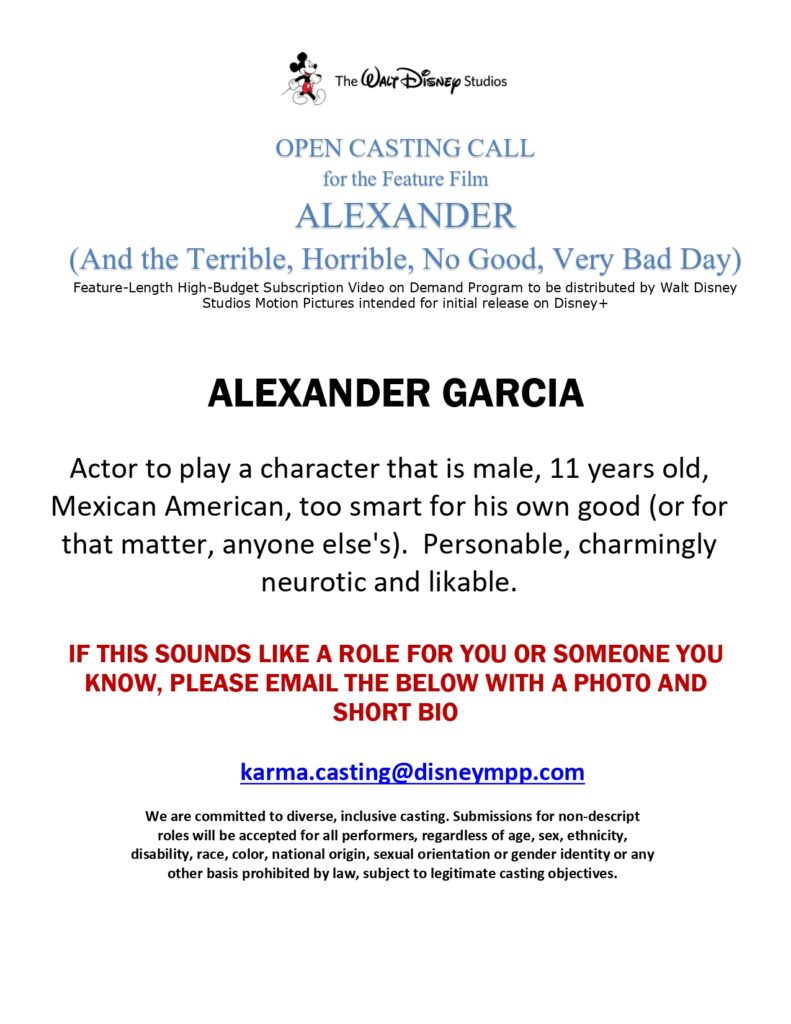 We wanted to pass along information to your program to see if anyone in your organization could be a fit and interested in auditioning?
If so, please have them send along a photo and short bio to karma.casting@disneympp.com or you can just respond here with their photo and short bio!
I've also included more information about the project below, a role description, and a flyer to post/share if you would like.
ALEXANDER GARCIA – Actor to play a character that is male, 11 years old, Mexican American, too smart for his own good (or for that matter, anyone else's).  Personable, charmingly neurotic, and likable. Casting Call
PROJECT ELEMENTS
Feature-Length High-Budget Subscription Video on Demand Program to be distributed by Walt Disney Studios Motion Pictures intended for initial release on Disney+
Director: Marvin Lemus
Writer: Matt Lopez
Producers: Shawn Levy, Dan Levine, Lisa Henson
Casting Directors: Chelsea Ellis Bloch, Marisol Roncali
Casting Associate: Annamarie Kasper
Casting Assistant: Anna Rocio Mendoza
Start Date: March 2023
Location: New Mexico
Attached: Eva Longoria (VAL), George Lopez (GIL)
Thank you so much for your time and please don't hesitate to reach out with any questions!
Anna Rocio Mendoza | Casting Assistant
Atomic Honey Castingc 661.312.5086
She/Her/Ella