CASTING CALL LOS ANGELES
I am casting six roles for a short film and I'd love to spread the word to your students about this opportunity.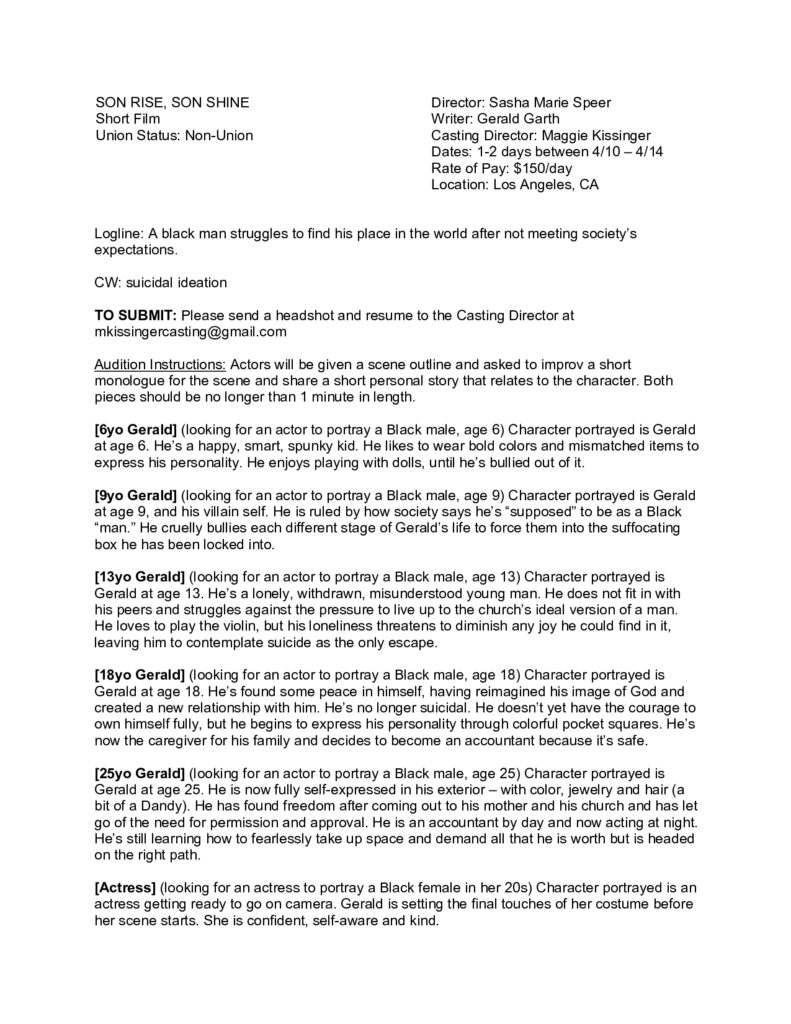 CASTING CALL LOS ANGELES: The film is a look back on the writer, Gerald Garth's journey as he struggled to find his place in the world as a Black man who doesn't fit society's expectations. We are looking for three children (6, 9 and 13yrs) and two adults to play different stages of Gerald's life, and one adult to play opposite Gerald.
We are looking for actors who are comfortable with improvisation, as most of the dialogue will be improvised during the shoot. We will have the writer on set to collaborate with the actors as we shoot. 
These are paid roles that will shoot for 1-2 days the week of April 10th. 
I've attached the breakdown to this email. Please feel free to share this with anyone who you think would be a good fit for these roles. They can submit by sending a headshot and resume to this email address.
Thank you for your time. If you have any questions, please don't hesitate to reach out. I look forward to hearing from you.
Best,
Maggie
—
Maggie Kissinger Casting
LA | NYCCall/Text: 513-312-5229 Write: mkissingercasting@gmail.comReplyForward
Inbox selectedBack