SOYEZ PRÊT POUR CONQUÉRIR HOLLYWOOD ET RÉALISER VOS RÊVES
 Programmes intensifs de 3 à 12 mois, jusqu'à 3 ans.
Programmes court terme construits en fonction de votre budget.
Nous fournissons des visas pour les étudiants internationaux !
 NOUS ENSEIGNONS LES TECHNIQUES SUIVANTES:
Meisner, Strasberg, Adler, Hagen, Tchekhov et Stanislavski.
Ecole de Cinema Los Angeles THE MICHELLE DANNER ACTING SCHOOL
Nous fournissons des visas pour les étudiants internationaux !
Prenez des cours de théâtre et de cinéma pour pouvoir travailler à Hollywood ! Ecole de cinema Los Angeles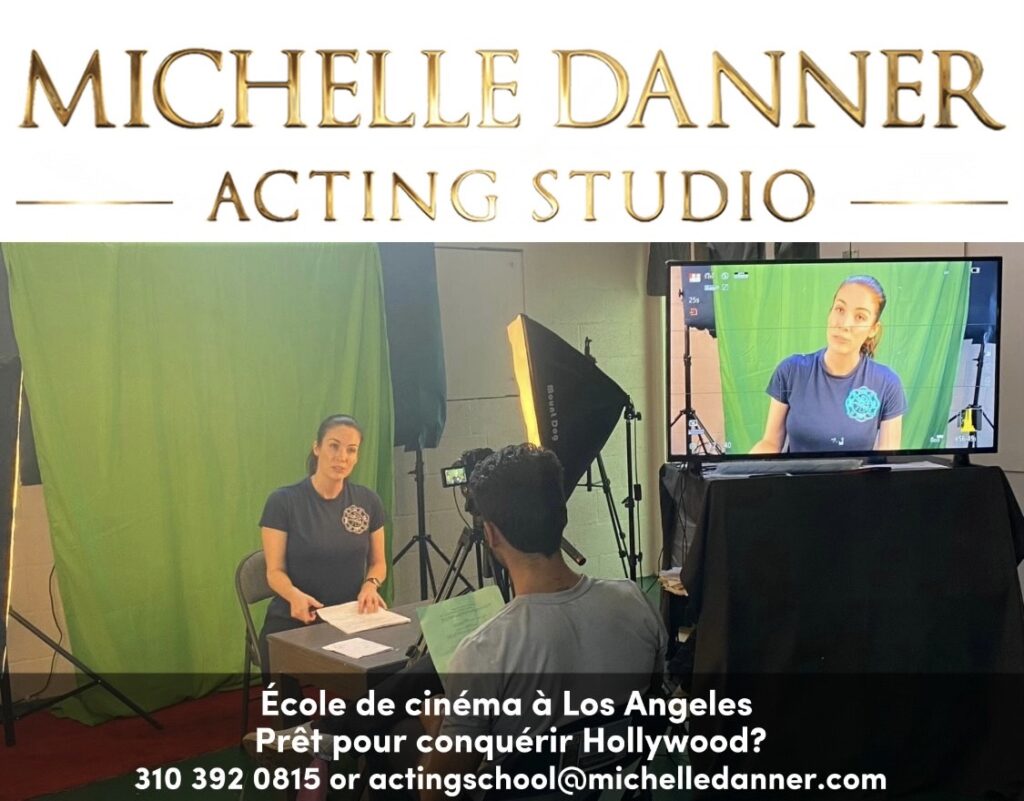 Nous utilisons le meilleur des techniques Stella Adler, Sanford Meisner, Lee Strasberg, Uta Hagen, Tchekhov, & Stanislavski. Notre école offre des opportunités aux étudiants étrangers qui aspirent à améliorer ou parfaire leurs compétences d'acteur, et développer leur CV. Chaque acteur est unique. Vous apprendrez à assembler votre propre boîte à outils, que nous appelons "Golden Box". Grâce à la technique de Michelle Danner, vous accumulerez tous les outils nécessaires pour faire face à votre prochain rôle, que ce soit pour le cinéma, la télévision ou le théâtre.
The Michelle Danner Acting School ecole d'acting a Los Angeles
Michelle Danner est la directrice artistique du studio Los Angeles Acting Conservatory. Co-fondatrice du centre, elle est aussi réalisatrice, actrice et productrice, ainsi que coach d'acting pour des acteurs très réputés. On compte parmi ses clients des personnalités aussi connues que Henry Cavill, Gerard Butler, Abigail Breslin, Zooey Deschanel, Penelope Cruz, Andy Garcia, Salma Hayek, James Franco, Seth Macfarlane, Michelle Rodriguez, Isla Fisher, Luke Wilson,Emily Van Camp, Donald Sutherland, Kyle MacLachlan, Mireille Enos, Taryn Manning, Ryan Phillippe, Chris Rock, Enrique Murciano, Josh Bowman, Rita Ora, Jennifer Coolidge.
Pour plus d'information ecole d'acting a Los Angeles,
Skype à : live:.cid.9ef1fb7fafb0ffec ou envoyez un email à :
actingschool@michelledanner.com ou téléphonez à ce numéro : 310 730 0819
Apprenez le métier d'acteur dans l'une des meilleures écoles d'art dramatique de Los Angeles.