We focus on 
College audition preparation
 as well as 
college interview coaching
. Our college audition coach will guide you in standing out among a very competitive admissions program. 
We will personally select the monologue and song material that fits you best, to showcase your strengths-
whether it's classical or the most cutting-edge material. 
We
provide one-on-one audition coaching for college-bound performers or hight school student. Each student is coached privately online or in-person in Los Angeles. 
Our
coaching
packages can be used for repertoire/material selection, monologue, song, and dance preparation, interview practice, confidence
coaching
,
admissions
. 
pick
audition
materials.
We focus on College audition preparation as well as college interview coaching. Our college audition coach will guide you from choosing the best material to showcase your talent and help you stand out and get accepted. Choose between online audition coaching or in-person acting coaching in Los Angeles.
Work 
on your acting technique from comedic to dramatic material. Our Educational Consultant will guide you in finding the right  audition material from contemporary to classical material. Actors are encouraged to explore and work on great writing. College Audition Prep
Material will be assigned ahead of time. You will form a toolbox of your own and develop a comprehensive set of "acting tools" when approaching a role or a scene whether it be for film, television, or theater. 
Acting takes time, skill, and dedication, and all of our acting coaches help you foster that within yourself. Our unique approach to acting incorporates a variety of methods, and unlike most acting schools, we equip our actors for film, theatre, and television. You'll learn how to stand out in auditions, relate to roles, break into the industry, and so much more at Michelle Danner Acting Studio. Educational Consultant.
Explore our course offerings that include private one-on-one training sessions, summer camps, workshops, classes, and more.
Contact us today to get started and reach your acting goals! Check out the best acting classes in Los Angeles and the best acting teachers
We offer Beginner acting classes in LA. Our acting school offers the following acting techniques in our acting classes: Join one of the Top Acting Schools in LA. Stella Adler Technique| Meisner Acting Technique| The Stanislavski Method| Uta Hagen Technique.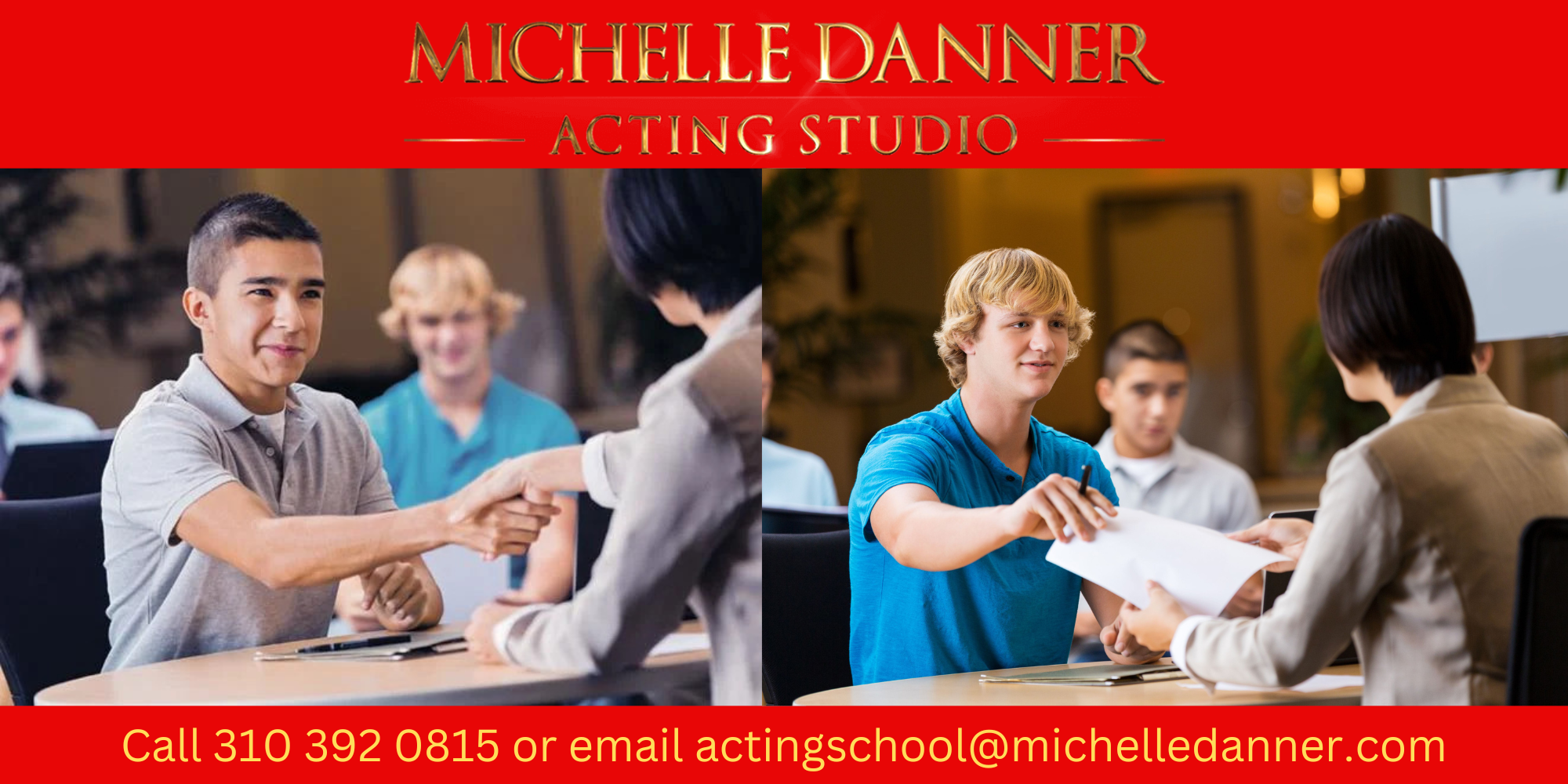 How to Make a Great Impression in Private School Interviews.
We Prepare students for 
private school interviews
. We will work on your voice and speech,  interview skills,  self confidence, and interview question preparation to get you to stand out amongst a competitive field of other applicants.
Our Educational Consultant guides your
child to leave a lasting impression in virtual interviews or in person interviews to the top high schools or colleges.
Private school admissions interviews can be nerve-racking but with the right preparation a more successful outcome can be achieved. Middle and high school students need advanced preparation to build self confidence in order to conduct a successful one-on-one interview with the admissions officer.
PRIVATE COACHING SERVICES ARE INVALUABLE TO GET THE COMPETITIVE EDGE IN THE HIGH SCHOOL OR COLLEGE ADMISSIONS PROCESS. EDUCATIONAL CONSULTANT
Prepare your prescreen audition with one of our top Los Angeles acting coaches.