INTERNATIONAL RENOMMIERTER SCHAUSPIELCOACH UND FILMREGISSEURIN MICHELLE DANNER KOMMT NACH KÖLN!
Hollywood Filmregisseurin und Schauspielcoach Michelle Danner unterrichtet A-List Schauspieler privat und am Set, dazu zählen u.a. James Franco, Chris Rock, Gerard Butler, Seth MacFarlane, Penelope Cruz, Henry Cavill, Salma Hayek, Chris Martin, uvm. Diesen September kommt sich nach Deutschland, um in Köln Schauspielkurs zu unterrichten. Ihr neuester Film "The Bandit Hound", eine Familienkomödie, und "Hello Herman" mit Norman Reedus ("The Walking Dead"), wurde für 100 Millionen Haushalte in den USA von Warner Brothers veröffentlicht und ist im Handel erhältlich.
Michelle Danner ist Gründer und Kreativdirektor des Edgmar Center of the Arts, mit Unterstützern wie Steven Spielberg, Tom Hanks, Kate Capshaw und Neil Simon. Als Autor wird Michelle Danner ihre beiden Bücher "The Daily Ritual" und "The Goldene Box" nächstes Jahr publizieren.
Workshop: 'The Golden Box' Intensivkurs 
-2. und 3. September 2017 von 10:00 bis 16:00 Uhr-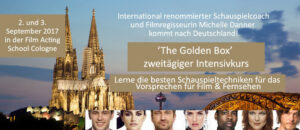 Köln Schauspielkurs
Mit diesem zweitägigen Köln Schauspielkurs können sich Teilnehmer eine umfassende Palette von Tools aneignen, welche es ermöglicht effizient an Rollen bzw. Szenen aus Film, TV oder Theater zu arbeiten. Michelle Danners Schauspieltechnik und -philosophie namens "The Golden Box" basiert auf Meisner, Lee Strasberg, Stella Adler, Stanislavski, Uta Hagen und Chekhov. In diesem Köln Schauspielkurs lernen Sie auf alle verschiedenen Schauspieltechniken zurückzugreifen, um Ihre ganz eigenes Repertoire zu kreieren. Die Golden Box bringt Ihnen bei, wie man aus seinem Kopf herauskommt, seinen Impulsen folgt und anfängt komplett im gegenwärtigen Moment zu leben. Indem Sie Ihre eigenen, einzigartigen emotionalen Trigger finden, lernen Sie jederzeit auf die volle Bandbreite Ihrer Gefühle und Emotionen zuzugreifen. Lernen Sie, wie Sie durch einen intensiven und emotionalen Workshop mit Vorträgen und Technikübungen, lebendige, ausgestaltete und interessante Charaktere kreieren. Michelle unterrichtet eine Technik, welche für Schauspieler jeden Erfahrungslevels effektiv ist. Schauspieler aus aller Welt hatten Erfolg durch Ihren Unterricht mit Michelle. Sie legt nämlich den Schwerpunkt nicht auf eine dogmatische Methode, sondern hilft den Schauspielern ihre eigene Kreativität zu entdecken.
Adresse: 

Moltkestr. 131, 50674 Köln 
Telefon: 0221 9123580 und 0171 8352143
Preis: 299,-€
Um deinen Platz zu sichern, schicke uns bitte eine E-Mail an info@michelledanner.com
(Link zur Bezahlung via Paypal folgt.)
 –
---
FILMS DIRECTED BY MICHELLE DANNER
Through her production company, All in Films, Michelle has produced and directed films that have featured stars such as Norman Reedus, Lou Ferrigno, Judd Nelson, Jason Alexander, and Catherine Bell.
All in Films, LLC, is an American independent movie production company founded by director, producer and award-winning acting coach Michelle Danner. It is a full-service film & entertainment studio based in Santa Monica, California, with a mission to craft quality content across all media.
www.allinfilms.com

THE BANDIT HOUND
A lovable dog named Bandit is trained to pull off bank robberies, but after a heist gone wrong he's rescued by a single mom and her son. Shen he starts stealing cash to help his new family, Bandit sets them on a collision course with his ex-partners.
Starring CATHERINE BELL ( JAG, Bruce Almighty, Army Wives), LOU FERIGNO (The Incredible Hulk), JOE FLANIGAN (Stargate: Atlantis, 6 Bullets,The Other Sister), PAUL SORVINO (Goodfellas, Romeo + Juliet, Repo! The Genetic Opera), BLUE GREENE (The Bandit Hound, Kids in the House TV), NICHOLAS ALEXANDER (The Bandit Hound, Uncensored Hollywood), JUDD NELSON (The Breakfast Club, Jay and Silent Bob Strike Back, Suddenly Susan), and VERNE TROYER ( Harry Potter and Sorcerer's Stone, Austin Powers: The Spy Who Shagged Me, Austin Powers in Goldmember)

HELLO HERMAN
Sixteen-year-old Herman Howards (Garret Backstrom) makes a fateful decision. He enters his suburban school and commits a terrible act of violence. Seconds before his arrest he emails his idol, infamous journalist Lax Morales (Norman Reedus), telling him, "I want to tell my story on your show." Haunted by his own past, Morales is forced to confront the troubled teenager, now an inmate with an uncertain future in this Michelle Danner-directed film that explores how and why tragedies like this can happen in our society.
Starring NORMAN REEDUS (The Walking Dead, The Boondock Saints, Blade II), MARTHA HIGAREDA (No Manches Frida, Street Kings, Lies in Plain Sight), GARRETT BACKSTROM (The Motel Life, Hello Herman, Summer Snow), ROB ESTES (Silk Stalkings, Melrose Place, 90210), and ANDY MCPHEE (Saving Mr. Banks, Wolf Creek, Animal Kingdom).

HOW TO GO OUT ON A DATE IN QUEENS
A self-proclaimed dating expert tries to get his best friend, who lost his wife two years earlier, back into the dating scene, with disastrous results.
Starring ROB ESTES (90210, Melrose Place, Silk Stalkings), KIMBERLY WILLIAMS (According to Jim, Father of the Bride, Father of the Bride Part II), ALISON EASTWOOD (Midnight in the Garden of Good and Evil, Tightrope, Absolute Power), ESAI MORALES (La Bamba, NYPD Blue, Rapa Nui), RON PERLMAN (Hellboy, Hand of God, Blade II), and JASON ALEXANDER (Seinfeld, The Hunchback of Notre Dame, Pretty Woman)
 –
---
ABOUT MICHELLE DANNER
Michelle Danner is a world-renowned acting coach, film and stage director, author, and teacher.
Michelle has taught acting for the last 24 years and has worked with many A-List Actors privately and on set including: Chris Rock, Gerard Butler, Seth MacFarlane, Penelope Cruz, Common, Jennifer Grant, Salma Hayek, Chris Martin, Brian McKnight, James Franco, Zooey Deschanel, Rob Estes, Rick Fox, Henry Cavill, Michelle Rodriguez and many others.

Voted favorite acting coach by Backstage readers. She was brought in for her expert coaching on the WB show The Starlet and was featured with Andy Richter on The Tonight Show with Conan O'Brien.
Michelle also trained extensively in Paris and New York with Stella Adler and Uta Hagen. She was the Managing Director of the Larry Moss Studio since it's inception in Los Angeles for 20 years.
She is the Founding Director of Edgemar Center for the Arts and raised $1.3 million to construct the two theaters and the art gallery at the Center. Steven Spielberg commented, "Here we have a venue that can turn out some extremely experienced, daring and resourceful artists." She is currently serving as Artistic Director and teaches ongoing classes at the Michelle Danner Studio, housed at Edgemar.
She teaches the Golden Box workshops in South America, Europe, Canada, Dubai, New York, Sydney, and Australia. Michelle has taught in several cities including Johannesburg, Cape Town, Istanbul, Paris, and Moscow.
Michelle Danner Acting School
– Meisner Acting Technique
– The Stanislavski Method
– On camera acting classes
– Musical theatre classes Los Angeles
–  Accent Reduction Classes
 –