ACTING TECHNIQUES – SANFORD MEISNER
**BY SIGNING UP BEFORE DECEMBER 15TH YOU WILL RECEIVE AN EXTRA 4 WEEKS OF CLASSES
In our Meisner Technique Acting Class students will learn the foundation of Sanford Meisner acting techniques: exercises in repetition independent activities, emotional preparation & scene work. You will learn the core of our work, the first half of each Acting technique class is devoted to a sequence of concentration exercises to develop actors' relaxation and effective memory: both sensory and emotional. The sense memory exercises utilize imaginary objects that most people deal with every day, so that actors can begin to create a simple reality for themselves. The second half of the class consists of scene and monologue work, during which time students apply what they have learned in their exercises to their roles. Improvisation is used to help create actual experience.
.
Meisner Technique Acting Class – Los Angeles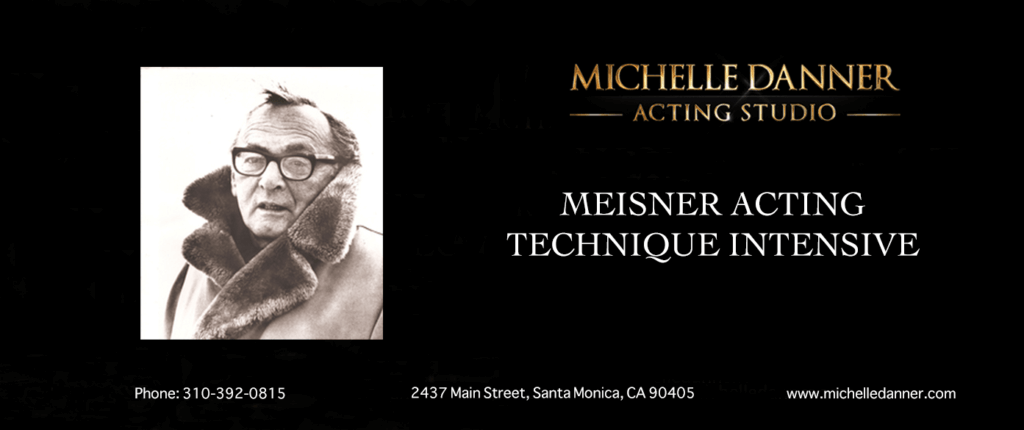 Meisner Technique Acting Class – Los Angeles Level 1 starting January 7th from

10am-1pm

-call about evening classes as well.
Meisner Technique Acting Class – Los Angeles Level

2 call 310.392.0815 for start times

TUITION IS 545 FOR 8 WEEKS
**BY SIGNING UP for the Meisner Technique Acting Class – Los Angeles BEFORE DECEMBER 15TH YOU WILL RECEIVE AN EXTRA 4 WEEKS OF CLASSES.
CALL US OR EMAIL US TO BE CONSIDERED FOR ENROLLMENT 
Phone: 310 • 392 • 0815
Email: actingclass@michelledanner.com
2437 Main Street 
Santa Monica, CA 90405
www.michelledanner.com
.
LOS ANGELES ACTING SCHOOL
Learn the best acting techniques for film acting & auditioning.
Schedule a one on one interview with 
Michelle Danner
 to be considered for enrollment and to learn about all the 
acting classes 
and acting courses we offer in Los Angeles. *Learn how to stand out in the audition room.
The Michelle Danner Acting Studio's philosophy is that artists can draw upon all different acting techniques and form an individual toolbox, their own Golden Box. We will help you to develop your own "Golden Box" of techniques and tools that you can use when approaching a role or a scene, whether it be for film, television, or theater. The Acting School's acting techniques are based on Meisner, Strasberg, Adler, Hagen, Chekhov, & the Stanislavsky Technique.
Michelle Danner
 is an international film director & acting coach. Her student list include James Franco, Seth MacFarlane, Salma Hayek, Henry Cavill, Zooey Deschanel, Gerard Butler, Chris Rock, Chris Martin, Penelope Cruz, Michael Pena, Michelle Rodriguez,  Kate Del Castillo and many others.
---
Stella Adler Technique| Meisner Acting Technique| The Stanislavski Method|Uta Hagen.
Below is a list of some of our acting classes:
Demo Reel|On camera acting classes| 
Scene Study Class
–
 Beginning/Intermediate/ Advanced
– Musical theatre classes Los Angeles| Accent Reduction Classes|Private coach
 Acting Workshops: Breaking into Hollywood
2437 Main Street Santa Monica, CA 90405
Phone: 310.392.0815