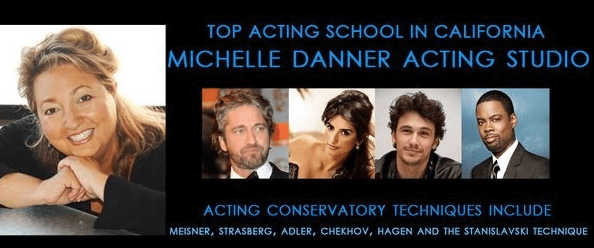 xxxxx
*COMBAT AND WEAPONS TRAINING
Learn the primary techniques of hand-to-hand combat (slaps, punches, etc.). All Students train in learning choreography and quickly bringing fights to the performance level.
12 week class Saturday October 20th
*WEB SERIES BOOTCAMP
This class is designed to help you launch your very web series. We will show you how to write, produce, shoot and edit your project.
*MEISNER ACTING TECHNIQUE LEVEL 1
You will learn the foundation of Sanford Meisner: exercises in repetition independent activities, emotional preparation & scene work. Wednesday 9 pm till 11pm
Email actingclass@gmail.com or Call 3103920815 for more information.
Contact the Michelle Danner Acting Studio, one of the top acting schools in California.
Learn Acting at one of the Best Acting Schools in Los Angeles
2437 Main Street Santa Monica, CA 90405
Phone: 310.392.0815