Summer Camps for Kids & Teens

Our acting conservatories program in Los Angeles is offered to rising high school juniors and seniors .
The Summer program for kids and teens conservatory-style acting program aimed at grades 9–12.
High-school juniors and seniors are exposed to collegiate training, preparing them for professional auditions as well as BFA and BA admissions.
We also offer short-term acting classes as well as an acting conservatory training.
 This Summer acting conservatory. intensive program allows you to learn voice, speech, on-camera technique, as well as techniques such as Meisner, Stella Adler and Stanislawski.
Acting and Performance Summer Institute is an intensive program for high school students in theater arts. Email us at actingschool@michelledanner.com or call 310-392-0815.
We offer film camps as well as acting camps. Giving kids and teens the opportunity to work with theatre professionals and explore a creative experience in the dramatic arts.
This conservatory-style "Acting Intensive" training course will challenge you and offer a strong foundation in the craft of acting.
Acting & Improvisation Summer Camps For Children & Teens
Ages 8 – 12 years, Ages 13 – 17 years
In this summer camp, students will develop a solid acting technique and foundation. Working on:
IMPROV WORKOUT: Fun improvisational games & exercises. AUDITIONING FOR FILM AND TELEVISION ON CAMERA: Practice auditioning techniques & get on camera experience. SCENE STUDY: The best way to learn is through hands on experience with direction. Work on scenes & monologues VOICE INTENSIVE: Vocal and speech exercises. Acting Classes For Kids in LA
Filmmaking & Acting Summer Camps Ages 8 – 12 years, Ages 13 – 17 years
Shoot, act in, and edit your own film while discovering how movies are made. Learn the fundamentals of acting and filmmaking, as you learn to compose a story. Plan a production schedule, write the script, set up your lighting and shoot your short films in HD, adding special effects as you edit.
What Students Learn – The movie making process start to finish – How to use a camera to tell stories via shooting techniques – How to work on a team – How to give and receive constructive feedback What Students Create – 1 short film, Commercial, or PSA
More About This Summer Camps
Our filmmaking classes will teach you how to master the movie production process and express your own creative voice through storytelling! You'll develop a story idea with a production team, then turn that concept into a script. Master creative camera angles and unique shots to create an exciting and unique movie all your own.
Friday Showcase At the end of each week, attendees can invite their family and friends to join them for a showcase celebration to share their final projects. Learn more about the fun and exciting activities your child experienced during the week.
We pride ourselves on coaching successful actors like James Franco, Chris Rock, Norman Reedus, and many more. Acting takes time, skill, and dedication, and all of our acting coaches help you foster that within yourself. Our unique approach to acting incorporates a variety of methods, and unlike most acting schools, we equip our actors for film, theatre, and television. You'll learn how to stand out in auditions, relate to roles, break into the industry, and so much more at Michelle Danner Acting Studio. Explore our course offerings that include private one-on-one training sessions, summer camps, workshops, classes, and more.
Contact us today to get started and reach your acting goals!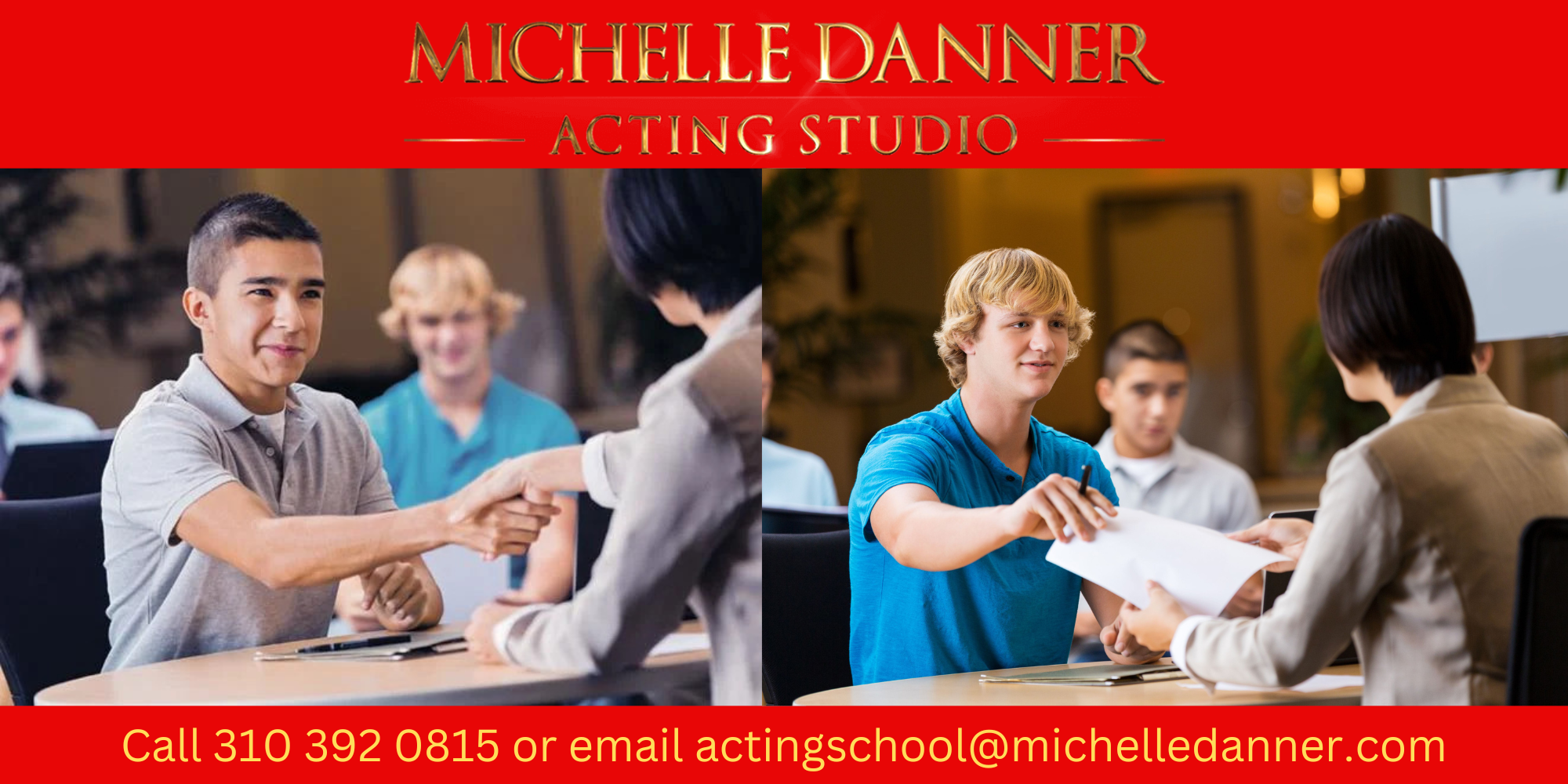 We offer Beginner acting classes in LA.
Our acting school offers the following acting techniques in our acting classes: Join one of the Top Acting Schools in LA.
Stella Adler Technique| Meisner Acting Technique| The Stanislavski Method| Uta Hagen Technique.
Below is a list of some of our acting classes:
Acting Classes for Beginners, intermediate and advanced actors.
Acting Workshops: Breaking into Hollywood
Acting Workshops: Golden Box
Scene Study Class
Voice & Speech Class
Script analysis
Musical theatre classes Los Angeles
Accent Reduction Classes
Private coaching for film and tv auditions
Summer Camps Los Angeles| Acting classes for kids
Summer Camps Los Angeles | Acting Classes for teens
Auditioning for film and TV | Teen and kids
Additionally, we have a conservatory program where you can earn your Bachelor of Arts in the performing arts.
Phone: 310 870 5701 Email: actingschool@michelledanner.com
10820 W Washington Blvd, Culver City, 90232
Join us and learn more about our Los Angeles Acting Workshops.
Our acting school offers acting workshops in LA.
We are considered one of theTop Acting Schools in Los Angeles.