This season ask for the perfect gift: Acting class gift certificate. Click on the banner.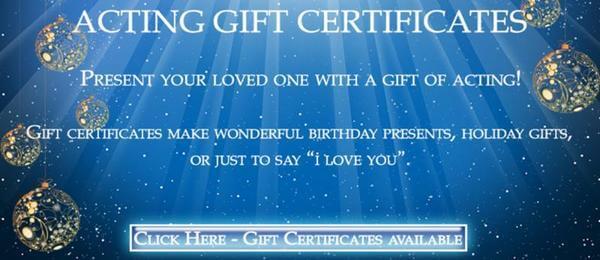 Alexandra Guarnieri – Managing Director
Phone: (310) 392 – 0815
Skype: live:.cid.9ef1fb7fafb0ffec
10820 W Washington Blvd, Culver City, 90232
Click here to join us on instagram
Acting opportunities for our students
Students study who study for 6 to 12 month have the opportunity to audition for acting parts. Also to work/intern on our latest movies and audition for the various theater productions. And participate in our yearly film festival. These opportunities give students the chance to build their resumes and IMDB credits, through practical training. Below are links to the websites you should check out for more information:
All In Films is an independent film production company. At the helm are Michelle Danner & Alexandra Guarnieri. The mission of All In Films is to produce high-quality, independent movies. Geared to entertain & spark social commentary. Check out the website at www.allinfilms.com.
**Come see why we are considered one of the best acting classes in Los Angeles, CA.
Our Los Angeles Acting School address is 10820 Washington blvd, Culver City.
The phone number is  310.392.0815