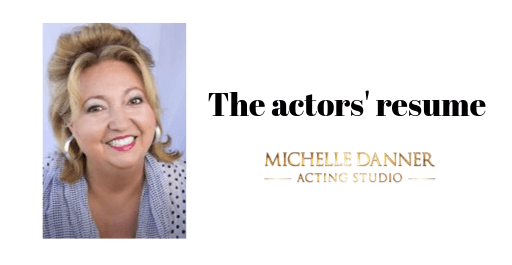 There are inummerable articles on the subject of the actors' resume. There are people who will charge you good money to write your resume. You can take seminars on the subject. In short, you can get easily fixated on the subject and, in fact, there are actors who sincerely believe that manipulating their resumes will make the difference in getting hired.
You get hired for acting jobs because you can act and you're right for the part not because actors' resume is perfectly written. There's good acting and there's bad acting. Unless you studied personally with Michelle Danner, Lee Strasberg, Stella Adler, or Sanford Meisner or other reputable acting schools in los angeles, don't put their names on your resume.
Take our BREAKING INTO HOLLYWOOD acting workshop to learn more
Our Hollywood Acting Workshop "Breaking into Hollywood" will prepare you with the tools required to break through in Hollywood. It can take years for an actor to learn the ins and outs, and the do's and don'ts of the industry.
Michelle Danner uses her years of experience within the business as a director, teacher, and actress to give actors a head start, and bypass years of trial and error.
Our Hollywood Acting Workshop "Breaking into Hollywood" is for actors who need an agent, who are trying to get to the next level, who are unsatisfied with the amount of auditions they are getting, and who have an agent but need to book work.
5 REASONS YOU NEED TO COME TO BREAKING INTO HOLLYWOOD WORKSHOP
Just moved to L.A.Just starting your Acting Career
Been Acting for a short/long time.
Don't have an Agent.
Have an Agent. Not getting auditions.
Have an Agent. Getting auditions but not booking.
An Interactive Workshop That Answers Your Questions
How to get a headshot and show reel that stands out!
Getting into SAG-AFTRA!
How to create a resume that gets you called in!
Finding agents, managers, lawyers, and publicists!
Getting work without an Agent!
How casting works!
How to develop an individualized strategy for your career!!!
An actors' resume seminar
I remember a headshot/actors' resume seminar I attended years ago. The speaker was a big name studio casting director, and the seminar was free to SAG members. This seminar was held at a 400 seat theater — over 3,000 actors showed up and the police were called to sustain order. That should give you an idea of the importance of this subject.
One of the questions from the audience was, "What do you look for on actors' resume?" The answer was, "Credits. Something that says you've actually been on a set."
"What if you don't have credits?" was the next question. "I look for training." was the response. Someone else asked if there were particular schools for which she looked. She said the name of the school where I taught and 200 heads went down as they scribbled out the real names of the schools they attended and wrote in my school's name on their actors' resume.
This parable makes two points: actors are always looking for way to get around putting in some serious work (looking for work and gaining credits) and, actors will lie on their resumes.
Actors' resume
Actors' resume building (another seminar in itself) does not mean punching up your credits, it means going out and getting practical experience. There are no shortcuts in becoming a professional actor. You will not jump past everyone and become a star in time for your 10th High School Reunion.
Los Angeles may be a big city but the professional community is very small. Everyone knows everyone else, or they know someone who knows someone, and everyone has seen almost everything. So, if your resume says you were in a certain film and you are not listed in that role on IMDB.COM then a phone call may be required to find the truth, but only a phone call.
Your resume should show the titles of the projects on which you worked and the roles for which you are credited.
The names of the director and studio or production company are nice to see. Those things eliminate the need for further research by the casting director. The chances are good that they know these people and can call them if there are questions.
Credits in theater
If all your credits are in theater then write down the names of the plays and the parts you played. If you're like me, and started doing theater when you were seven years old, you don't need to put every role you ever played but a list of the most current pieces and the city in which you played are clear indicators to the casting director.
Your film credits should read in order of importance. Projects in which you starred, co-starred or guest-starred should go first. If your resume consists of extra work there's no sin in that. You've been on a set and you know how to conduct yourself on a shoot. That's important and should be noted.
Make sure your training is listed, especially if you have only a few credits. If all your training took place in college it doesn't look bad but it's meaningless in your job hunt as a professional actor.
Special skills
Special skills is a section of your resumes where you put your major accomplishments in life. "Play Baseball, Soccer and Hockey" may indeed make clear that you are active but unless you have specific accomplishments in those areas (Regional Champion, US Olympic Team, etc.) it's just page filler. Do you sing in 3 octaves? Did you study ballet, tap and jazz for 14 years? Are you a certified SCUBA diver? Did you swim the English channel or split the atom? These things are credits and give weight to your resumes.
Online submissions are best done in PDF format. You can easily post them online for download or attach them to an eMail. Everyone has a PDF reader on their system and you cannot transmit a virus through a PDF file. There are other options but the PDF is best and you can include a headshot or two, or three. If you don't know how to save your resumes as a PDF file then pay very careful attention to the next section.
Contact us
BEST LOS ANGELES ACTING SCHOOL |ACTOR COACH LOS ANGELES | LOOKING FOR ACTING CLASSES IN LA? ASPIRING ACTORS INTERESTED IN ENROLLING IN AN ACTING PROGRAM CAN DO SO AT DIFFERENT TIMES OVER THE COURSE OF THE YEAR. ACTING PROGRAMS LA |ACTORS ALSO HAVE THE OPPORTUNITY TO TAKE A NON-DEGREE ONE-YEAR ACTING PROGRAM AT THE performing arts schools in Los Angeles. Email the acting school.
PHONE: 310 392 0815