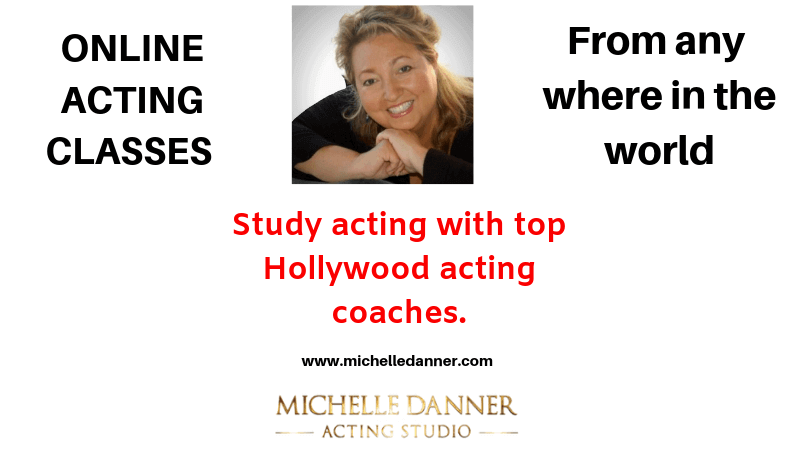 ONLINE CLASSES ACTING FOR ALL LEVELS AND ALL AGES WITH TOP RATED HOLLYWOOD ACTING COACHES.
You can participate from anywhere in the world!
Whether you are starting out or a seasoned professional actor, the Michelle Danner Los Angeles acting school provides you with the best training in the world no matter where you live!

Actors preparing to embark on the journey to Hollywood can obtain a huge advantage over their competitors by receiving exceptional acting training prior to their move.

4 or 8 consecutive week online classes acting program that meets once a week. Choose between 2 class times – online study:
Saturdays, at 10 am – 12 pm PST Los Angeles time or 12:30 pm – 2:30 pm PST Los Angeles time.
Each class is 2 hours
Material of classes changes weekly
Guided, structured approached to learning acting with top Hollywood acting coaches
Once you have paid and signed up for the course, you will receive the link to add us on skype so you can join the class.

Acting class – online lectures:
Learn the essentials to becoming a great actor.
THE CLASS FOCUSES ON ANSWERING THE FOLLOWING QUESTIONS:
Why are some choices more powerful than others? How does one deliver a raw unforgettable performance? What specific tools can be applied to film, television, and stage work? How does one develop a personal story from scratch and discover material for a one woman/man show, screenplay, short or novel?
Every Saturday, at 10 am – 12 pm PST or 12:30 pm – 2:30 pm PST
Email us with any questions at actingclass@michelledanner.com
Cost: $ 300 for 4 weeks – $ 500 for 8 weeks
Private Coachings with one of our Acting Coaches-
You could coach once a week or once a month with film or television material. You would choose between different genres such as comedic, dramatic or action and adventure. You can also have Michelle pick sides for you to work on from the latest the movies ranging from comedy, sitcom, romantic comedy, and all genres of dramatic writing. Learn to make unique choices.
Best ESL online classes
Add us on facebook: Michelle Danner Los Angeles Acting School
Add us on Snapchat: actingclass-la